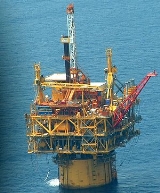 Devil's Tower (oil platform)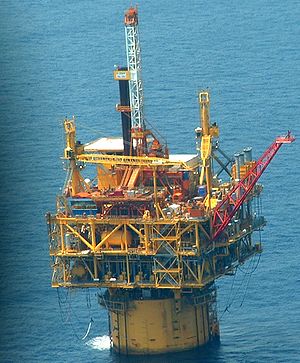 Devil's Tower
is a deep-water oil and gas production
Spar
SPAR (platform)
A spar, named for logs used as buoys in shipping and moored in place vertically, is a type of floating oil platform typically used in very deep waters. Spar production platforms have been developed as an alternative to conventional platforms...
oil platform
Oil platform
An oil platform, also referred to as an offshore platform or, somewhat incorrectly, oil rig, is a lаrge structure with facilities to drill wells, to extract and process oil and natural gas, and to temporarily store product until it can be brought to shore for refining and marketing...
located in the
Gulf of Mexico
Gulf of Mexico
The Gulf of Mexico is a partially landlocked ocean basin largely surrounded by the North American continent and the island of Cuba. It is bounded on the northeast, north and northwest by the Gulf Coast of the United States, on the southwest and south by Mexico, and on the southeast by Cuba. In...
and named after
Devils Tower National Monument
Devils Tower National Monument
Devils Tower is an igneous intrusion or laccolith located in the Black Hills near Hulett and Sundance in Crook County, northeastern Wyoming, above the Belle Fourche River...
.
Devil's Tower is located in block 773 of the
Mississippi Canyon
Mississippi Canyon
The Mississippi Canyon is an undersea canyon in the Central Gulf of Mexico, south of Louisiana. According to the U.S. Geological Survey GLORIA Mapping Program, it is the dominant feature of the north-central Gulf of Mexico. According to GCAGS Transactions, it has an average width of , and a length...
region of the Gulf of Mexico. Until 2010 it was the record holder for being located in the deepest water for a production truss spar (this record was broken by Royal Dutch Shell's Perdido platform). It was completed at the end of 2003. Originally it was built for and operated by Dominion Exploration which sold its Gulf of Mexico holdings to
Eni
Eni
Eni S.p.A. is an Italian multinational oil and gas company, present in 70 countries, and currently Italy's largest industrial company with a market capitalization of 87.7 billion euros , as of July 24, 2008...
which now operates the platform. The platform is owned by Williams Energy (NYSE: WMB)
The facility was built by
J. Ray McDermott
J. Ray McDermott
McDermott International is an international engineering company specialized on marine solutions with operations in the Americas, Middle East, the Caspian Sea, and the Pacific Rim...
and is located 5610 feet (1,709.9 m) above the seabed.
External links