 Dersu Uzala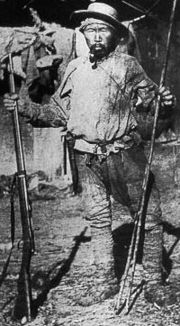 Dersu Uzala
is the title of a 1923 book by the Russian explorer
Vladimir Arsenyev
Vladimir Arsenyev
Vladimir Klavdiyevich Arsenyev was a Russian explorer of the Far East who recounted his travels in a series of books - "По Уссурийскому Краю" and "Дерсу Узала" - telling of his military journeys to the Ussuri basin with Dersu Uzala, a native hunter, from 1902 to 1907...
.
Plot
Arsenyev's book tells of his travels in the Ussuri basin in the
Russian Far East
Russian Far East
Russian Far East is a term that refers to the Russian part of the Far East, i.e., extreme east parts of Russia, between Lake Baikal in Eastern Siberia and the Pacific Ocean...
. Dersu was the name of a Nanai hunter (who lived c. 1850–1908) who acted as a guide for Arsenyev's surveying crew from 1902 to 1907, and saved them from starvation and cold. Arsenyev portrays him as a great man,
animist
Animism
Animism refers to the belief that non-human entities are spiritual beings, or at least embody some kind of life-principle....
who sees animals and plants as equal to man. From 1907, Arsenyev invited Dersu to live in his house in
Khabarovsk
Khabarovsk
Khabarovsk is the largest city and the administrative center of Khabarovsk Krai, Russia. It is located some from the Chinese border. It is the second largest city in the Russian Far East, after Vladivostok. The city became the administrative center of the Far Eastern Federal District of Russia...
as Dersu's failing sight hampered his ability to live as a hunter. In the spring of 1908, Dersu bade farewell to Arsenyev and walked back to his home in the
Primorsky Krai
Primorsky Krai
Primorsky Krai , informally known as Primorye , is a federal subject of Russia . Primorsky means "maritime" in Russian, hence the region is sometimes referred to as Maritime Province or Maritime Territory. Its administrative center is in the city of Vladivostok...
, where he was killed. According to Arsenyev's book, Dersu Uzala was murdered near the town of Korfovskiy and buried in an unmarked grave in the taiga.
Editions in Russian
Дерсу Узала. Сквозь тайгу Издательство: Терра - Книжный клуб (1997) Н. Е. Кабанова (ed.) EAN 9785300010973 (English: Dersu Uzala. Taiga Publishing House: Terra Book Club) (1997) N. ya. Kabanov (ed.) EAN 9785300010973)
English translations
For more information about English and other language translations see
http://www.dersuuzala.info/?p=78
and
http://www.dersuuzala.info/eng_translations.html
.
With Dersu the Hunter: Adventures in the Taiga adapted by Anne Terry White

Pub: George Braziller

George Braziller

George Braziller is an American book publisher and the founder of George Braziller, Inc., a firm known for its literary and artistic books and its publication of foreign authors....


] 1965, A Venture Book, New York. ISBN 0807603252
Dersu the Trapper translated by Malcolm Burr

Pub: Secker & Warburg, London 1939. First English edition.
Pub: E. P. Dutton & Co., Inc. New York: 1941. ISBN 0929701496 First American edition.
Pub: McPherson and others, 1996, 2001. ISBN 0929701496. Mass market paperback.
Dersu Uzala translated by Victor Shneerson

Pub: Foreign Languages Publishing House, Moscow, ca 1950
Pub: Raduga Moscow 1990, ISBN 5050028221
Pub: University Press of the Pacific 2004 ISBN 1410213471
Film adaptations
1961 - Dersu Uzala

Dersu Uzala (1961 film)

Dersu Uzala is a 1961 Soviet film, adapted from the books of Vladimir Arsenyev, about his travels in Russian Far East with a native trapper, Dersu Uzala....


(Дерсу Узала) Soviet Union

Soviet Union

The Soviet Union , officially the Union of Soviet Socialist Republics , was a constitutionally socialist state that existed in Eurasia between 1922 and 1991....


, director Agasi Babayan [Агаси Бабаян]
1975 - Dersu Uzala

Dersu Uzala (1975 film)

Dersu Uzala is a 1975 Soviet-Japanese co-production film directed by Akira Kurosawa, his first non-Japanese-language film and his first and only 70 mm film. The film won the Grand Prix at the Moscow Film Festival and the 1975 Oscar for Best Foreign Language Film...


(Дерсу Узала) Soviet Union/Japan

Japan

Japan is an island nation in East Asia. Located in the Pacific Ocean, it lies to the east of the Sea of Japan, China, North Korea, South Korea and Russia, stretching from the Sea of Okhotsk in the north to the East China Sea and Taiwan in the south...


, director Akira Kurosawa

Akira Kurosawa

was a Japanese film director, producer, screenwriter and editor. Regarded as one of the most important and influential filmmakers in the history of cinema, Kurosawa directed 30 filmsIn 1946, Kurosawa co-directed, with Hideo Sekigawa and Kajiro Yamamoto, the feature Those Who Make Tomorrow ;...