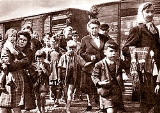 Deportation
Deportation
means the expulsion of a person or group of people from a place or
country
Country
A country is a region legally identified as a distinct entity in political geography. A country may be an independent sovereign state or one that is occupied by another state, as a non-sovereign or formerly sovereign political division, or a geographic region associated with a previously...
. Today it often refers to the expulsion of foreign nationals whereas the expulsion of nationals is called banishment,
exile
Exile
Exile means to be away from one's home , while either being explicitly refused permission to return and/or being threatened with imprisonment or death upon return...
, or
penal transportation
Penal transportation
Transportation or penal transportation is the deporting of convicted criminals to a penal colony. Examples include transportation by France to Devil's Island and by the UK to its colonies in the Americas, from the 1610s through the American Revolution in the 1770s, and then to Australia between...
. Deportation is an ancient practice:
Khosrau I
Khosrau I
Khosrau I , also known as Anushiravan the Just or Anushirawan the Just Khosrau I (also called Chosroes I in classical sources, most commonly known in Persian as Anushirvan or Anushirwan, Persian: انوشيروان meaning the immortal soul), also known as Anushiravan the Just or Anushirawan the Just...
,
Sassanid
Sassanid Empire
The Sassanid Empire , known to its inhabitants as Ērānshahr and Ērān in Middle Persian and resulting in the New Persian terms Iranshahr and Iran , was the last pre-Islamic Persian Empire, ruled by the Sasanian Dynasty from 224 to 651...
King of Persia, deported 292,000 citizens, slaves, and conquered people to the new city of
Ctesiphon
Ctesiphon
Ctesiphon, the imperial capital of the Parthian Arsacids and of the Persian Sassanids, was one of the great cities of ancient Mesopotamia.The ruins of the city are located on the east bank of the Tigris, across the river from the Hellenistic city of Seleucia...
in 542
C.E.
Common Era
Common Era ,abbreviated as CE, is an alternative designation for the calendar era originally introduced by Dionysius Exiguus in the 6th century, traditionally identified with Anno Domini .Dates before the year 1 CE are indicated by the usage of BCE, short for Before the Common Era Common Era...
.
England
England
England is a country that is part of the United Kingdom. It shares land borders with Scotland to the north and Wales to the west; the Irish Sea is to the north west, the Celtic Sea to the south west, with the North Sea to the east and the English Channel to the south separating it from continental...
deported religious objectors and criminals to America in large numbers before 1776, and transported them to Australia between 1788 and 1868.