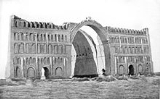 Ctesiphon
Ctesiphon
, the
imperial
Empire
The term empire derives from the Latin imperium . Politically, an empire is a geographically extensive group of states and peoples united and ruled either by a monarch or an oligarchy....
capital of the
Parthian Arsacids
Parthian Empire
The Parthian Empire , also known as the Arsacid Empire , was a major Iranian political and cultural power in ancient Persia...
and of the
Persian Sassanids
Sassanid Empire
The Sassanid Empire , known to its inhabitants as Ērānshahr and Ērān in Middle Persian and resulting in the New Persian terms Iranshahr and Iran , was the last pre-Islamic Persian Empire, ruled by the Sasanian Dynasty from 224 to 651...
, was one of the great cities of ancient
Mesopotamia
Mesopotamia
Mesopotamia is a toponym for the area of the Tigris–Euphrates river system, largely corresponding to modern-day Iraq, northeastern Syria, southeastern Turkey and southwestern Iran.Widely considered to be the cradle of civilization, Bronze Age Mesopotamia included Sumer and the...
.
The ruins of the city are located on the east bank of the
Tigris
Tigris
The Tigris River is the eastern member of the two great rivers that define Mesopotamia, the other being the Euphrates. The river flows south from the mountains of southeastern Turkey through Iraq.-Geography:...
, across the river from the Hellenistic city of
Seleucia
Seleucia
Seleucia was the first capital of the Seleucid Empire, and one of the great cities of antiquity standing in Mesopotamia, on the Tigris River.Seleucia may refer to:...
. Today, the remains of the city lies in
Baghdad Governorate
,
Iraq
Iraq
Iraq ; officially the Republic of Iraq is a country in Western Asia spanning most of the northwestern end of the Zagros mountain range, the eastern part of the Syrian Desert and the northern part of the Arabian Desert....
, approximately 35 km south of the city of
Baghdad
Baghdad
Baghdad is the capital of Iraq, as well as the coterminous Baghdad Governorate. The population of Baghdad in 2011 is approximately 7,216,040...
.
The Latin name Ctesiphon or Ctesifon (icon) derives from Greek
Ktēsiphōn
(Κτησιφῶν), a Hellenized form of a local name that has been reconstructed as
Tosfōn
or
Tosbōn
.