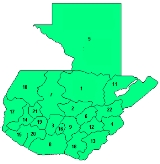 Departments of Guatemala
|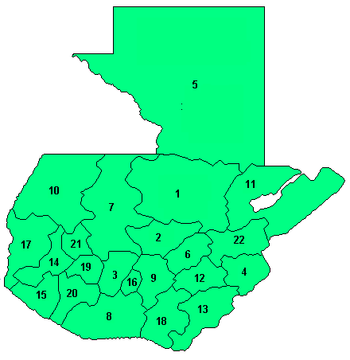 |
Guatemala
Guatemala
Guatemala is a country in Central America bordered by Mexico to the north and west, the Pacific Ocean to the southwest, Belize to the northeast, the Caribbean to the east, and Honduras and El Salvador to the southeast...
is divided into 22 departments (
departamentos
):
Alta Verapaz
Baja Verapaz
Chimaltenango
Chiquimula
Petén
El Progreso
El Quiché
Escuintla
Guatemala
Huehuetenango
Izabal
Jalapa
Jutiapa
Quetzaltenango
Retalhuleu
Sacatepéquez
San Marcos
Santa Rosa
Sololá
Suchitepéquez
Totonicapán
Zacapa
In addition, Guatemala has in the past claimed that all or part of the nation of
Belize
Belize
Belize is a constitutional monarchy and the northernmost country in Central America. Belize has a diverse society, comprising many cultures and languages. Even though Kriol and Spanish are spoken among the population, Belize is the only country in Central America where English is the official...
is a department of Guatemala (as a part of the Province of Verapaz), and this claim is sometimes reflected in maps of the region. Guatemala formally recognized Belize in 1992, but as of this time the remaining border disputes between the two nations had not been resolved.
See also
ISO 3166-2:GT

ISO 3166-2:GT

ISO 3166-2:GT is the entry for Guatemala in ISO 3166-2, part of the ISO 3166 standard published by the International Organization for Standardization , which defines codes for the names of the principal subdivisions of all countries coded in ISO 3166-1.Currently for Guatemala, ISO 3166-2 codes are...