 Dendrology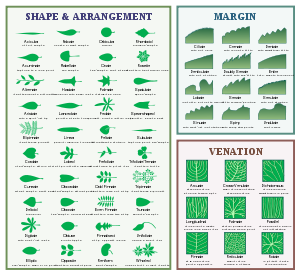 Dendrology
or
xylology
is the science and study of
wooded plants
Woody plant
A woody plant is a plant that uses wood as its structural tissue. These are typically perennial plants whose stems and larger roots are reinforced with wood produced adjacent to the vascular tissues. The main stem, larger branches, and roots of these plants are usually covered by a layer of...
(
tree
Tree
A tree is a perennial woody plant. It is most often defined as a woody plant that has many secondary branches supported clear of the ground on a single main stem or trunk with clear apical dominance. A minimum height specification at maturity is cited by some authors, varying from 3 m to...
s,
shrub
Shrub
A shrub or bush is distinguished from a tree by its multiple stems and shorter height, usually under 5–6 m tall. A large number of plants may become either shrubs or trees, depending on the growing conditions they experience...
s, and
liana
Liana
A liana is any of various long-stemmed, woody vines that are rooted in the soil at ground level and use trees, as well as other means of vertical support, to climb up to the canopy to get access to well-lit areas of the forest. Lianas are especially characteristic of tropical moist deciduous...
s). There is no sharp boundary between
plant taxonomy
Plant taxonomy
Plant taxonomy is the science that finds, describes, classifies, identifies, and names plants. It thus is one of the main branches of taxonomy.Plant taxonomy is closely allied to plant systematics, and there is no sharp boundary between the two...
and dendrology. However, woody plants not only belong to many different plant
families
Family (biology)
In biological classification, family is* a taxonomic rank. Other well-known ranks are life, domain, kingdom, phylum, class, order, genus, and species, with family fitting between order and genus. As for the other well-known ranks, there is the option of an immediately lower rank, indicated by the...
, but these families may be made up of both woody and non-woody members. Some families include only a few woody species. This severely limits the usefulness of a strictly dendrological approach. Dendrology tends to focus on economically useful woody plants, their identification and horticultural or silvicultural properties.
Relationship with botany
Dendrology is often confused with
botany
Botany
Botany, plant science, or plant biology is a branch of biology that involves the scientific study of plant life. Traditionally, botany also included the study of fungi, algae and viruses...
. However, botany is the study of all types of general plants, while dendrology studies only wooded plants. Dendrology may be considered a subcategory of botany that specializes in wooded plants.
Noted dendrologists
See also
Dendrochronology

Dendrochronology

Dendrochronology or tree-ring dating is the scientific method of dating based on the analysis of patterns of tree-rings. Dendrochronology can date the time at which tree rings were formed, in many types of wood, to the exact calendar year...



Silvology

Silvology

Silvology is the study of forests and woods, incoporating both the understanding of natural forest ecosystems and the design of silvicultural systems....



World Forestry Congress

World Forestry Congress

The World Forestry Congress is the largest and most significant gathering of the world's forestry sector and it has been held every six years since 1926 under the auspices of the Food and Agriculture Organization of the United Nations , organized by the government of the host country...



External links