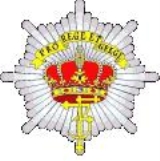 Den Kongelige Livgarde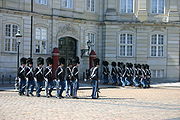 The Royal Life Guards
is an infantry regiment of the Danish Army, founded in 1658 by
King Frederik III
Frederick III of Denmark
Frederick III was king of Denmark and Norway from 1648 until his death. He instituted absolute monarchy in Denmark and Norway in 1660, confirmed by law in 1665 as the first in western historiography. He was born the second-eldest son of Christian IV of Denmark and Anne Catherine of Brandenburg...
. It serves in two roles: as a front line combat unit, and as a guard/ceremonial unit to the Danish monarchy. The Royal Guards provide a permanent guard at the Amalienborg Palace, Kastellet (part of the old fortification of Copenhagen), Rosenborg Castle/garrison of the Royal Guards in Copenhagen and the garrison of Høvelte. On occasions guard is kept at Fredensborg Palace, Marselisborg Palace, Gråsten Palace, Christiansborg Palace and other locations inside the Danish realm.
The ordinary uniform of the Royal Life Guards while they are on guard duty is dark blue. Their full dress uniform is very similar to that of the
Foot Guards
Foot Guards
-British Army:The Foot Guards are the Regular Infantry regiments of the Household Division of the British Army. There have been six regiments of foot guards, five of which still exist. The Royal Guards Reserve Regiment was a reserve formation of the Household Brigade in existence from 1900-1901...
regiments of the
British Army
British Army
The British Army is the land warfare branch of Her Majesty's Armed Forces in the United Kingdom. It came into being with the unification of the Kingdom of England and Scotland into the Kingdom of Great Britain in 1707. The new British Army incorporated Regiments that had already existed in England...
: a scarlet tunic; blue trousers; and a
bearskin
Bearskin
A bearskin is a tall fur cap, usually worn as part of a ceremonial military uniform. Traditionally, the bearskin was the headgear of grenadiers, and is still worn by grenadier and guards regiments in various armies.-Origins:...
with the regiment's
cap badge
Cap badge
A cap badge, also known as head badge or hat badge, is a badge worn on uniform headgear and distinguishes the wearer's nationality and/or organisation. The wearing of cap badges is a convention commonly found among military and police forces, as well as uniformed civilian groups such as the Boy...
(the Sun and Royal Coat of Arms); together with the symbolic infantry sabre, which is part of the spoils from the First Schleswig War 1848-1850 and originally a French infantry sabre. During his time in the Danish forces, Crown Prince Frederik served a tour in the Royal Guards with the rank of Sergeant.
The regiment itself has three
battalion
Battalion
A battalion is a military unit of around 300–1,200 soldiers usually consisting of between two and seven companies and typically commanded by either a Lieutenant Colonel or a Colonel...
s:
1st Battalion (I Bataljon) - Founded 1658. Armoured Infantry Battalion, 1st Brigade
2nd Battalion (II Bataljon) - Founded 1867. Armoured Infantry Battalion, 2nd Brigade
3rd Battalion (III Bataljon) - Founded 1923. Training Battalion, 2nd Brigade
Alliances
- The Princess of Wales's Royal Regiment (Queen's and Royal Hampshires) - Bond of Friendship
External links