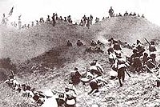 Defence of Sevastopol
Defence of Sevastopol
is a 1911 historical war film about the Siege of Sevastopol during the
Crimean War
Crimean War
The Crimean War was a conflict fought between the Russian Empire and an alliance of the French Empire, the British Empire, the Ottoman Empire, and the Kingdom of Sardinia. The war was part of a long-running contest between the major European powers for influence over territories of the declining...
and one of the most important films in the history of Russian cinema. It was the first
feature film
Feature film
In the film industry, a feature film is a film production made for initial distribution in theaters and being the main attraction of the screening, rather than a short film screened before it; a full length movie...
made in the
Russian Empire
Russian Empire
The Russian Empire was a state that existed from 1721 until the Russian Revolution of 1917. It was the successor to the Tsardom of Russia and the predecessor of the Soviet Union...
and it premiered on October 26 at the
Livadia Palace
Livadia Palace
Livadia Palace was a summer retreat of the last Russian tsar, Nicholas II, and his family in Livadiya, Crimea in southern Ukraine. The Yalta Conference was held there in 1945, when the palace housed the apartments of Franklin Delano Roosevelt and other members of the American delegation...
of
Tsar Nicolas II
Nicholas II of Russia
Nicholas II was the last Emperor of Russia, Grand Prince of Finland, and titular King of Poland. His official short title was Nicholas II, Emperor and Autocrat of All the Russias and he is known as Saint Nicholas the Passion-Bearer by the Russian Orthodox Church.Nicholas II ruled from 1894 until...
.
Film crew
Directors and writers: Vasily Goncharov

Vasily Goncharov

Vasily Mikhailovich Goncharov was a Russian film director and screenwriter, one of the pioneers of the film industry in the Russian Empire, who directed the first Russian feature film Defence of Sevastopol.-Filmography:...


and Aleksandr Khanzhonkov

Aleksandr Khanzhonkov

Aleksandr Aleksejevich Khanzhonkov was Russia's first cinema entrepreneur. He produced Defence of Sevastopol, Russia's first feature film, and Ladislas Starevich's ground-breaking puppet animations....



Cinematographers: Louis Forestier and Aleksandr Ryllo
Artist: V. Fester
Composer: Georgiy Kozachenko
Consultant: Polkovnik

Polkovnik

Polkovnik is often a military rank in Slavic countries which corresponds to a colonel in English-speaking states. However, in the Ukraine, polkovnyk was an administrative rank similar to a governor...


M. Lyakhov
Cast
A. Bibikov – graf Eduard Totleben

Eduard Totleben

Eduard Ivanovich Totleben was a Baltic German military engineer and Imperial Russian Army general. He was in charge of fortification and sapping work during a number of important Russian military campaigns.-Early life:...



Pavel Biryukov
B. Borisov
Aleksandra Goncharova
Borus Gorin-Goryainov
Andrei Gromov – admiral Pavel Nakhimov

Pavel Nakhimov

Pavel Stepanovich Nakhimov |Siege of Sevastopol]] during the Crimean War.-Biography:Born in the Gorodok village of Vyazma district of Smolensk region. Nakhimov entered the Naval Academy for the Nobility in Saint Petersburg in 1815. He made his first sea voyage in 1817, aboard the frigate Feniks ,...



Vladimir Maksimov

Vladimir Maksimov (actor)

Vladimir Vasilievich Maksimov was a Russian stage and silent film actor.-Filmography:*Dekabristy *Katsi katsistvis mgelia as Kraev*Slesar i kantsler as Frank Frey...



Ivan Mozzhukhin

Ivan Mozzhukhin

Ivan Ilyich Mozzhukhin Ivan Ilyich Mozzhukhin Ivan Ilyich Mozzhukhin (Russian: Иван Ильич Мозжухин was a Russian silent film actor.-Career in Russia:Mozzhukhin was born in Penza, Russia and studied law at Moscow State University. In 1910 he left academic life to join a troupe of traveling actors...


– admiral Vladimir Kornilov
Olga Petrova-Zvantseva – merchant (sutler)
N. Semyonov – sailor Koshka
External links