 Deepwater, New Jersey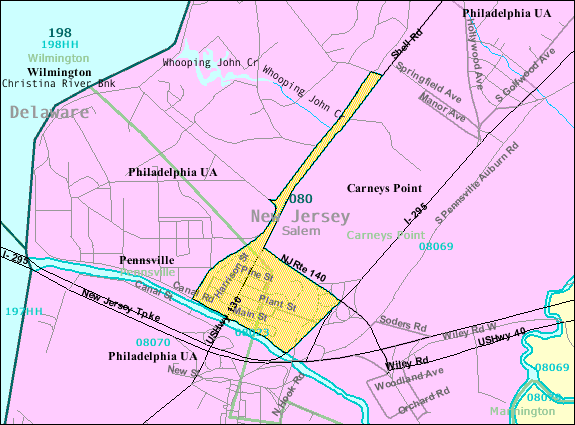 Deepwater
is a community in Pennsville, in
Salem County
Salem County, New Jersey
-Demographics:As of the census of 2000, there were 64,285 people, 24,295 households, and 17,370 families residing in the county. The population density was 190 people per square mile . There were 26,158 housing units at an average density of 77 per square mile...
,
New Jersey
New Jersey
New Jersey is a state in the Northeastern and Middle Atlantic regions of the United States. , its population was 8,791,894. It is bordered on the north and east by the state of New York, on the southeast and south by the Atlantic Ocean, on the west by Pennsylvania and on the southwest by Delaware...
, lying at the east end of the
Delaware Memorial Bridge
Delaware Memorial Bridge
The Delaware Memorial Bridge is a set of twin suspension bridges crossing the Delaware River. The toll bridges carry Interstate 295 and U.S. Route 40 between Delaware and New Jersey...
. Deepwater is the location of the
United States Postal Service
United States Postal Service
The United States Postal Service is an independent agency of the United States government responsible for providing postal service in the United States...
area covering
ZIP code
ZIP Code
ZIP codes are a system of postal codes used by the United States Postal Service since 1963. The term ZIP, an acronym for Zone Improvement Plan, is properly written in capital letters and was chosen to suggest that the mail travels more efficiently, and therefore more quickly, when senders use the...
08023. As of the United States 2000 Census, the ZCTA had a population of 345.
While the Census Bureau does not track data for ZIP codes, it does gather information for the
ZIP Code Tabulation Area
ZIP Code Tabulation Area
ZIP Code Tabulation Areas are statistical entities developed by the United States Census Bureau for tabulating summary statistics from Census 2000. This new entity was developed to overcome the difficulties in precisely defining the land area covered by each ZIP code...
(ZCTA), which is designed to approximate the ZIP code. All geographic and Demographic data shown below is for the Deepwater ZCTA.
Geography
Deepwater is located at 39°41′06"N 75°29′22"W
According to the
United States Census Bureau
United States Census Bureau
The United States Census Bureau is the government agency that is responsible for the United States Census. It also gathers other national demographic and economic data...
, the community has a total area of 1 square mile (2.5 km²), all of it land.
Demographics
As of the
census
Census
A census is the procedure of systematically acquiring and recording information about the members of a given population. It is a regularly occurring and official count of a particular population. The term is used mostly in connection with national population and housing censuses; other common...
of 2000, there were 345 people, 141 households, and 83 families residing in the ZCTA. The
population density
Population density
Population density is a measurement of population per unit area or unit volume. It is frequently applied to living organisms, and particularly to humans...
was 2,801 people per square mile (1,084.3/km²). There were 159 housing units at an average density of 1,080.5/sq mi (418.3/km²). The racial makeup of the ZCTA was 98.80% White, 1.20% Asian, and 1 % from two or more races. Hispanic or Latino of any race were 1.19% of the population.
There were 1,013 households out of which 40.8% had children under the age of 18 living with them, 66.2% were
married couples
Marriage
Marriage is a social union or legal contract between people that creates kinship. It is an institution in which interpersonal relationships, usually intimate and sexual, are acknowledged in a variety of ways, depending on the culture or subculture in which it is found...
living together, 7.1% had a female householder with no husband present, and 24.8% were non-families. 22 % of all households were made up of individuals and 12.4% had someone living alone who was 65 years of age or older. The average household size was 2.66 and the average family size was 3.14.
In the ZCTA the population was spread out with 28.4% under the age of 18, 8.7% from 18 to 24, 29.9% from 25 to 44, 20 % from 45 to 64, and 13.0% who were 65 years of age or older. The median age was 35.2 years. For every 100 females there were 94.9 males. For every 100 females age 18 and over, there were 87.1 males.
The median income for a household in the ZCTA was $40,357, and the median income for a family was $61,875. Males had a median income of $84,912 versus $43,068 for females. The
per capita income
Per capita income
Per capita income or income per person is a measure of mean income within an economic aggregate, such as a country or city. It is calculated by taking a measure of all sources of income in the aggregate and dividing it by the total population...
for the borough was $45,843. About .7% of families and 2.4% of the population were below the poverty line, including 1.4% of those under age 18 and 4.1% of those age 65 or over.