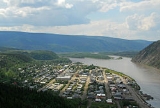 Dawson City, Yukon
The
Town of the City of Dawson
or
Dawson City
is a
town
Town
A town is a human settlement larger than a village but smaller than a city. The size a settlement must be in order to be called a "town" varies considerably in different parts of the world, so that, for example, many American "small towns" seem to British people to be no more than villages, while...
in the
Yukon
Yukon
Yukon is the westernmost and smallest of Canada's three federal territories. It was named after the Yukon River. The word Yukon means "Great River" in Gwich'in....
,
Canada
Canada
Canada is a North American country consisting of ten provinces and three territories. Located in the northern part of the continent, it extends from the Atlantic Ocean in the east to the Pacific Ocean in the west, and northward into the Arctic Ocean...
.
The population was 1,327 at the
2006 census
Canada 2006 Census
The Canada 2006 Census was a detailed enumeration of the Canadian population. Census day was May 16, 2006. The next census following will be the 2011 Census. Canada's total population enumerated by the 2006 census was 31,612,897...
. The area draws some 60,000 visitors each year. The locals generally refer to it simply as 'Dawson', but the tourist industry generally refers to it as 'Dawson City' (partly to differentiate it from
Dawson Creek, British Columbia
Dawson Creek, British Columbia
Dawson Creek is a small city in northeastern British Columbia, Canada. The municipality of had a population of 11,529 in 2009. Dawson Creek derives its name from the creek of the same name that runs through the community. The creek was named after George Mercer Dawson by a member of his land...
, which is at Mile 0 of the
Alaska Highway
Alaska Highway
The Alaska Highway was constructed during World War II for the purpose of connecting the contiguous U.S. to Alaska through Canada. It begins at the junction with several Canadian highways in Dawson Creek, British Columbia and runs to Delta Junction, Alaska, via Whitehorse, Yukon...
).
The townsite was founded by Joseph Ladue and named in January 1897 after noted Canadian geologist
George M. Dawson
George Mercer Dawson
Dr. George Mercer Dawson F.R.S., C.M.G., was a Canadian scientist and surveyor. He was born in Pictou, Nova Scotia, the eldest son of Sir John William Dawson, Principal of McGill University and his wife, Lady Margaret Dawson...
, who had explored and
mapped
Cartography
Cartography is the study and practice of making maps. Combining science, aesthetics, and technique, cartography builds on the premise that reality can be modeled in ways that communicate spatial information effectively.The fundamental problems of traditional cartography are to:*Set the map's...
the region in 1887.