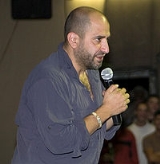 Dave Attell
Dave Attell
is an American
stand-up
Stand-up comedy
Stand-up comedy is a comedic art form. Usually, a comedian performs in front of a live audience, speaking directly to them. Their performances are sometimes filmed for later release via DVD, the internet, and television...
comedian
Comedian
A comedian or comic is a person who seeks to entertain an audience, primarily by making them laugh. This might be through jokes or amusing situations, or acting a fool, as in slapstick, or employing prop comedy...
and the host of
Comedy Central
Comedy Central
Comedy Central is an American cable television and satellite television channel that carries comedy programming, both original and syndicated....
's
Insomniac with Dave Attell
Insomniac with Dave Attell
Insomniac with Dave Attell was a television show on Comedy Central hosted by comedian Dave Attell which ran from August 5, 2001 until November 11, 2004. In the typical Insomniac, Attell goes through a particular city at night, starting out with a minute or so of his performance at a comedy club and...
and
The Gong Show with Dave Attell
The Gong Show with Dave Attell
The Gong Show with Dave Attell is a revival of the 1970s Chuck Barris comedy game show called The Gong Show, hosted by comedian Dave Attell. The show premiered on July 17, 2008...
.
Born in Queens, New York, he grew up in
Rockville Centre, New York
Rockville Centre, New York
Rockville Centre is a village located in Nassau County, New York, in the United States. As of the 2010 census, the village had a total population of 24,023. The town is made up of middle to upper middle class residents, most of the wealthier residents residing on the north side of town near the...
and now lives in
New York City
New York City
New York is the most populous city in the United States and the center of the New York Metropolitan Area, one of the most populous metropolitan areas in the world. New York exerts a significant impact upon global commerce, finance, media, art, fashion, research, technology, education, and...
. Attell's initial motivation to perform stand-up comedy is attributed to his indecisiveness as to what he should do after college. In 1987 he graduated from
New York University
New York University
New York University is a private, nonsectarian research university based in New York City. NYU's main campus is situated in the Greenwich Village section of Manhattan...
with a degree in communications. Like many other fledgling comedians, he worked menial jobs during the day and put in his time at comedy clubs at night.
Sex is not that important; it's the afterward part when you're naked and it's warm. Watching the sun come up through the windshield you look in her good eye and you help strap on her leg and you know: you fucked a pirate.

My cousin had a baby and I was watching her breastfeed for a couple of bucks, and I'll tell you ladies: it's amazing.

They have a luggage store at the airport? I mean, how late do you have to be running? Don't worry honey just grab a pile of shit... we'll get a bag at the airport!"

I used to do drugs, but that was way back there.

Sparklers are the gay cousins of the fireworks family. I think a flashlight is more dangerous than a sparkler. My friends got M-80s, bottle rockets, ammonium nitrate, manure, a rented van. They're blowing shit up, getting things done. I'm walking around with a sparkler like the Special Olympics torch-boy.

Never let a woman put a condom on ya. Do it yourself fellas. It's embarrassing. "Oh look, oh look there's still more room! Ha Ha Ha! We could tie it off and use it again and again. Cause you've got a small penis; and I know, cause I work with children."

Every man wonders about the size of their penis. Laying in bed alone at night, or in a hammock with a parrot. You start thinking, "Do I have a small penis or just gigantic balls?"

Eggnog, who thought that one up? "I wanna get a little drunk, but I also want some pancakes." You know what eggnog really is. You're not gonna want to hear it, but I'll tell ya. It's elf cum. You might as well pour it down your back and slap your self on the ass.

I'm very romantic when I masturbate. I light some candles. Then I try to shoot them out when I'm done. Never invite me to a birthday party.