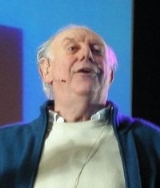 Dario Fo
Dario Fo
is an
Italian
Italian people
The Italian people are an ethnic group that share a common Italian culture, ancestry and speak the Italian language as a mother tongue. Within Italy, Italians are defined by citizenship, regardless of ancestry or country of residence , and are distinguished from people...
satirist
Satire
Satire is primarily a literary genre or form, although in practice it can also be found in the graphic and performing arts. In satire, vices, follies, abuses, and shortcomings are held up to ridicule, ideally with the intent of shaming individuals, and society itself, into improvement...
,
playwright
Playwright
A playwright, also called a dramatist, is a person who writes plays.The term is not a variant spelling of "playwrite", but something quite distinct: the word wright is an archaic English term for a craftsman or builder...
, theater director,
actor
Actor
An actor is a person who acts in a dramatic production and who works in film, television, theatre, or radio in that capacity...
and
composer
Composer
A composer is a person who creates music, either by musical notation or oral tradition, for interpretation and performance, or through direct manipulation of sonic material through electronic media...
. His dramatic work employs comedic methods of the ancient Italian
commedia dell'arte
Commedia dell'arte
Commedia dell'arte is a form of theatre characterized by masked "types" which began in Italy in the 16th century, and was responsible for the advent of the actress and improvised performances based on sketches or scenarios. The closest translation of the name is "comedy of craft"; it is shortened...
, a theatrical style popular with the working classes. He currently owns and operates a theatre company with his wife, actress
Franca Rame
Franca Rame
Franca Rame is an Italian theatre actress and playwright. She is also the wife of Nobel Prize winning author Dario Fo and the mother of the writer Jacopo Fo.- Life :...
. He was awarded the 1997
Nobel Prize in Literature
Nobel Prize in Literature
Since 1901, the Nobel Prize in Literature has been awarded annually to an author from any country who has, in the words from the will of Alfred Nobel, produced "in the field of literature the most outstanding work in an ideal direction"...
, with the committee highlighting him as a writer "who emulates the jesters of the Middle Ages in scourging authority and upholding the dignity of the downtrodden".
Fo's works are characterised by criticisms of — among others —
organized crime
Organized crime
Organized crime or criminal organizations are transnational, national, or local groupings of highly centralized enterprises run by criminals for the purpose of engaging in illegal activity, most commonly for monetary profit. Some criminal organizations, such as terrorist organizations, are...
,
political corruption
Political corruption
Political corruption is the use of legislated powers by government officials for illegitimate private gain. Misuse of government power for other purposes, such as repression of political opponents and general police brutality, is not considered political corruption. Neither are illegal acts by...
, political murders, Catholic policy on
abortion
Abortion
Abortion is defined as the termination of pregnancy by the removal or expulsion from the uterus of a fetus or embryo prior to viability. An abortion can occur spontaneously, in which case it is usually called a miscarriage, or it can be purposely induced...
and conflict in the Middle East.