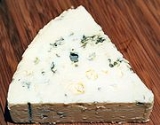 Danish Blue cheese
Danish Blue
is a strong,
blue-veined
Blue cheese
Blue cheese is a general classification of cow's milk, sheep's milk, or goat's milk cheeses that have had cultures of the mold Penicillium added so that the final product is spotted or veined throughout with blue, blue-gray or blue-green mold, and carries a distinct smell, either from that or...
cheese
Cheese
Cheese is a generic term for a diverse group of milk-based food products. Cheese is produced throughout the world in wide-ranging flavors, textures, and forms....
. This semi-soft creamery cheese is typically drum or block shaped and has a white to yellowish, slightly moist, edible rind. Made from cow's
milk
Milk
Milk is a white liquid produced by the mammary glands of mammals. It is the primary source of nutrition for young mammals before they are able to digest other types of food. Early-lactation milk contains colostrum, which carries the mother's antibodies to the baby and can reduce the risk of many...
, it has a fat content of 25–30% (50–60% in dry matter) and is aged for eight to twelve weeks.
Before ageing, copper wires or rods are used to pierce the formed
curd
Curd
Curds are a dairy product obtained by curdling milk with rennet or an edible acidic substance such as lemon juice or vinegar, and then draining off the liquid portion. The increased acidity causes the milk proteins to tangle into solid masses, or curds. The remaining liquid, which contains only...
s to distribute the mould (
Penicillium roqueforti
Penicillium roqueforti
Penicillium roqueforti is a common saprotrophic fungus from the family Trichocomaceae. Widespread in nature, it can be isolated from soil, decaying organic matter, and plants. The major industrial use of this fungus is the production of blue cheeses, flavouring agents, antifungals, polysaccharides,...
) evenly through the cheese. The holes can still be seen when the finished wheel is cut open.
Danish Blue was invented early in the 20th century by a Danish cheese maker named Marius Boel with the intention of emulating a
Roquefort
Roquefort (cheese)
Roquefort , sometimes spelled Rochefort in English, is a sheep milk blue cheese from the south of France, and together with Bleu d'Auvergne, Stilton and Gorgonzola is one of the world's best-known blue cheeses...
style cheese. Danish Blue has a milder flavour characterised by a sharp, salty taste.
Danish Blue is often served crumbled on
salad
Salad
Salad is any of a wide variety of dishes, including vegetable salads; salads of pasta, legumes, eggs, or grains; mixed salads incorporating meat, poultry, or seafood; and fruit salads. They may include a mixture of cold and hot, often including raw vegetables or fruits.Green salads include leaf...
s or as a
dessert
Dessert
In cultures around the world, dessert is a course that typically comes at the end of a meal, usually consisting of sweet food. The word comes from the French language as dessert and this from Old French desservir, "to clear the table" and "to serve." Common Western desserts include cakes, biscuits,...
cheese with fruit. In Denmark, it is often served on bread or biscuits.
Danish Blue and Esrom are the only two Danish cheeses that are
PGI
Protected Geographical Status
Protected Geographical Status is a legal framework defined in European Union law to protect the names of regional foods. Protected Designation of Origin , Protected Geographical Indication and Traditional Speciality Guaranteed are distinct regimes of geographical indications within the framework...
-marked by the EU, meaning that they may only be produced in Denmark from Danish milk and at approved dairies that produce the cheeses according to the specifications laid down.