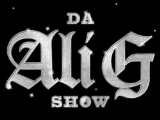 Da Ali G Show
Da Ali G Show
is the name of two related
satirical
Satire
Satire is primarily a literary genre or form, although in practice it can also be found in the graphic and performing arts. In satire, vices, follies, abuses, and shortcomings are held up to ridicule, ideally with the intent of shaming individuals, and society itself, into improvement...
TV series created by and starring
British
Great Britain
Great Britain or Britain is an island situated to the northwest of Continental Europe. It is the ninth largest island in the world, and the largest European island, as well as the largest of the British Isles...
comedian
Sacha Baron Cohen
Sacha Baron Cohen
Sacha Noam Baron Cohen is an English stand-up comedian, actor, writer, and voice artist. He is most widely known for his portrayal of three unorthodox fictional characters: Ali G, Borat, and Brüno...
and featuring the character
Ali G
Ali G
Ali G is a satirical fictional character invented and performed by English comedian Sacha Baron Cohen. Originally appearing on Channel 4's Eleven O'Clock show, Ali G is the title character of Channel 4's Da Ali G Show, original episodes of which aired in 2000 and on HBO in 2003–2004, and is the...
.
The first (2000) series originally aired on
Channel 4
Channel 4
Channel 4 is a British public-service television broadcaster which began working on 2 November 1982. Although largely commercially self-funded, it is ultimately publicly owned; originally a subsidiary of the Independent Broadcasting Authority , the station is now owned and operated by the Channel...
in the UK, and the second (2003–2004) series on HBO in the US. The second series was known as
Ali G in da USAiii
in the UK and Australia.
In the series, Baron Cohen plays as three unorthodox journalists — the main character Ali G, a Kazakhstani named Borat Sagdiyev, and an Austrian homosexual named
Brüno
Bruno (character)
Brüno Gehard , sometimes written as Bruno and Brueno, is a fictional character portrayed by English comedian Sacha Baron Cohen. The character, a flamboyantly gay Austrian fashion reporter, first appeared during short sketches on The Paramount Comedy Channel in 1998, before reappearing on Da Ali G...
— who carry out ridiculous interviews with unsuspecting people (including celebrities and high-ranking officials).
On 23 July 2005 HBO announced they had no plans to make an additional season of the show.
Baron Cohen has gone on to make three films, each starring one of his three characters based from the show:
Ali G Indahouse
Ali G Indahouse
Ali G Indahouse is a British comedy film directed by Mark Mylod and starring the fictional character Ali G, who is performed by British comedian Sacha Baron Cohen...
,
Borat
Borat: Cultural Learnings of America for Make Benefit Glorious Nation of Kazakhstan
Borat: Cultural Learnings of America for Make Benefit Glorious Nation of Kazakhstan, often referred to simply as Borat, is a 2006 mockumentary comedy film directed by Larry Charles and distributed by 20th Century Fox...
, and
Brüno
Bruno
Bruno is a male given name. It is derived from the Germanic word brun meaning "brown". It is also one of the most frequent Italian surnames. It also occurs very frequently in continental Europe and parts of Brazil as a given name for men and boys...
.
Ali G (Alistair Leslie Graham) is the main character of
Da Ali G Show
.