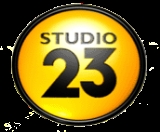 DWAC-TV
DWAC-TV
, channel 23, is the flagship station of
Philippine
Philippines
The Philippines , officially known as the Republic of the Philippines , is a country in Southeast Asia in the western Pacific Ocean. To its north across the Luzon Strait lies Taiwan. West across the South China Sea sits Vietnam...
television network
Television network
A television network is a telecommunications network for distribution of television program content, whereby a central operation provides programming to many television stations or pay TV providers. Until the mid-1980s, television programming in most countries of the world was dominated by a small...
Studio 23
Studio 23
Studio 23 is a Filipino television network owned by the ABS-CBN Corporation. The network is named for its flagship station in Metro Manila, DWAC-TV, which is carried on UHF channel 23...
, a fully owned subsidiary of ABS-CBN Corporation. Its studios and transmitter are located at ABS-CBN Broadcast Center Mother Ignacia cor. Sgt. Esguerra Avenues, Diliman, Quezon City.
History
The station was acquired from Ermita Electronics Corporation in July 1996, which initially owned the frequency of the station that began airing in May 1992 from a densely populated commercial area in Quezon City with a rebroadcast of MTV Asia, then telecasting from the
STAR TV
STAR TV
Satellite Television Asia Region is an Asian TV service owned by Rupert Murdoch's News Corporation. It is headquartered in Hong Kong, with regional offices in mainland China, Taiwan....
platform. It was later showing
Channel [V
Channel V
Channel [V] is the brand name for multiple international music television networks owned by STAR TV and Fox International Channels, fully owned subsidiaries of News Corporation.-Channel [V] International:...
] refeeds from 1993 onwards as MTV made the decision to split from STAR and form its own satellite TV portal in Asia.
Three years later in 1996, MTV Asia returned to the Philippine airwaves after establishing a new regional base in Singapore. ABS-CBN was picked as the broadcast arm of MTV Asia in the Philippines at the time, and Channel 23 started test broadcasts in September 1996 with rebroadcasts of the new MTV Asia from Singapore. A month later, it launched its own programming under the station name Studio 23 and adopted the slogan "Premium Television". The station initially ran MTV rebroadcasts in the day, and ran its own shows at primetime.It also ran for 24 hours, but financial limitations forced it to sign off at 3AM every day. That has been the broadcast arrangement ever since.
5 years later, MTV Asia acquired a new local UHF frequency and Studio 23 formally became a full station, adopting rebroadcasts of its in-house cable channel
Myx
Myx
myx or MYX is the music channel of ABS-CBN brand and the #1 music channel in the Philippines. It is also a part of Studio 23's program line-up. In 2007, MYX North America was launched in the United States....
to fill in the void left by MTV Asia, and came up with intensified programming led by the popular reality TV game show "Survivor", and several top rate US shows like "
7th Heaven
7th Heaven
7th Heaven is an American family drama television series, created and produced by Brenda Hampton. The series premiered on August 26, 1996, on the WB, the first time that the network aired Monday night programming, and was originally broadcast from August 26, 1996 to May 13, 2007...
", "Will and Grace" and "
Charmed
Charmed
Charmed is an American television series that originally aired from October 7, 1998, until May 21, 2006, on the now defunct The WB Television Network. The series was created in 1998 by writer Constance M...
", among others.
By 2004, the channel opened its doors to Taglish programs. It also by that time adopted a new slogan, "Kabarkada Mo!". Previous to this trend, the station was already running its own English newscast, "
News Central
News Central (Philippine TV program)
News Central was the flagship primetime newscast of Studio 23. The show features a focus on major stories from around the country.News Central aired its last episode on October 1, 2010.-Anchors:*Tina Arcega *Alex Alikpala...
", since 2001, effectively replacing the network's "
The World Tonight
The World Tonight (ABS-CBN)
The World Tonight is an English-language newscast of ABS-CBN. It is anchored by Angelo Castro, Jr. And Tina Monzon-Palma on weekdays, and by Gigi Grande on Saturdays and Ron Cruz on Sundays.-Airing history:...
", previously on Channel 2 which had gone on to be a cable-only newscast of
ANC
ABS-CBN News Channel
ABS-CBN News Channel or better known as ANC is the Philippines first 24-hour news channel broadcasting both in cable television domestically and in satellite television internationally via The Filipino Channel, owned and operated by the ABS-CBN Corporation under its ABS-CBN News and Current Affairs...
, a cable channel of ABS-CBN. It also geared its mostly young viewers to trends in the tech world with "Digital World". With the intensified Taglish presence, Studio 23 today now has the nightly Tagalog gag newscast "
Wazzup Wazzup
Wazzup Wazzup
Wazzup Wazzup was a comedic-news program which was previously aired on Philippine television network Studio 23. The show features Vhong Navarro, Toni Gonzaga, and Archie Alemania as news anchors who introduce segments that are delivered by 'tadjocks' .In the show's first season, the news anchors...
", the interactive youth talk show "Y-Speak", and several others. It even provided support shows to its highly successful local reality programs "
Pinoy Big Brother
Pinoy Big Brother
Pinoy Big Brother is the Philippine version of the reality television show Big Brother . It follows the same premise as its many foreign counterparts around the world: twelve Philippine residents are forced to live with each other inside a house for about 3 months or at least 100 days...
"and "
Pinoy Dream Academy
Pinoy Dream Academy
Pinoy Dream Academy is the Philippine version of Endemol's Operación Triunfo . The format is similar to Big Brother, where a set number of finalists would live inside the Academy for four months and will be trained by guest teachers to be multimedia performers...
", both acquired from
Endemol
Endemol
Endemol is an international television production and distribution company based in the Netherlands, with subsidiaries and joint ventures in 23 countries, including the United Kingdom, the United States, France, Mexico, Spain, Italy, Germany, Brazil, Chile, Argentina, Dominican Republic, Poland,...
of the Netherlands and are big hits on
Channel 2
DWWX-TV
DWWX-TV, channel 2, is the flagship station of Philippine television network ABS-CBN Corporation. Its studios and transmitter are located at the ABS-CBN Broadcast Center at Sgt...
.
Expansion to sports programming
In 1998, ABS-CBN, through its sports division,
ABS-CBN Sports
ABS-CBN Sports
ABS-CBN Sports is the sports division of the Philippine media conglomerate ABS-CBN Corporation, which airs some of the notable sports events in the Philippines....
, used mainly Studio 23 to highlight its own professional basketball league, the
Metropolitan Basketball Association
Metropolitan Basketball Association
The Metropolitan Basketball Association or Metroball was a professional basketball league in the Philippines founded in 1998.The MBA overtook the Philippine Basketball Association's plans on regionalization when the league adopted a home-and-away format where teams, instead of representing...
(MBA). The league adopted the home and away format used by the American professional league the
National Basketball Association
National Basketball Association
The National Basketball Association is the pre-eminent men's professional basketball league in North America. It consists of thirty franchised member clubs, of which twenty-nine are located in the United States and one in Canada...
(NBA). (It however sold the franchise of the league after incurring heavy losses.) It marked the network's first serious foray into sports programming.
Later, that would be added by acquiring broadcast rights to the collegiate leagues UAAP and
NCAA
National Collegiate Athletic Association (Philippines)
The National Collegiate Athletic Association is an athletics association of nine colleges and universities in the Philippines. Established in 1924, the NCAA is the oldest athletic association in the Philippines...
and the
PBL
Philippine Basketball League
The Philippine Basketball League is a commercial semi-professional basketball league in the Philippines. The league is composed of several commercial teams with several collegiate and provincial stars.-History:...
.
Today, it carries a wide variety of local sporting competition, many of which involved neighborhood schools and showcasing budding Filipino sports talents.
See also
ABS-CBN

ABS-CBN

ABS–CBN Corporation is a Philippine-based media conglomerate. It is the Philippines' largest media and entertainment conglomerate. The corporation was the merger of Alto Broadcasting System which at that time owned by James Lindenberg and Antonio Quirino, and the Chronicle Broadcasting Network ...



Studio 23

Studio 23

Studio 23 is a Filipino television network owned by the ABS-CBN Corporation. The network is named for its flagship station in Metro Manila, DWAC-TV, which is carried on UHF channel 23...



Studio 23 stations