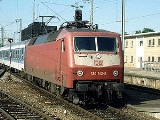 DB Class 120
The
DB Baureihe 120
is a class of
electric locomotive
Electric locomotive
An electric locomotive is a locomotive powered by electricity from overhead lines, a third rail or an on-board energy storage device...
s operated by
DB Fernverkehr
DB Fernverkehr
DB Fernverkehr AG is a semi-independent division of Deutsche Bahn that operates long-distance passenger trains in Germany. It was founded in 1999 in the second stage of the privatisation of German Federal Railways under the name of DB Reise&Touristik and renamed in 2003.DB Fernverkehr operates all...
in
Germany
Germany
Germany , officially the Federal Republic of Germany , is a federal parliamentary republic in Europe. The country consists of 16 states while the capital and largest city is Berlin. Germany covers an area of 357,021 km2 and has a largely temperate seasonal climate...
.
Background and design
The locomotives' prototypes, delivered in 1979 (Mark 120.0), were one of the first electric locomotives with
three-phase motors
Three-phase electric power
Three-phase electric power is a common method of alternating-current electric power generation, transmission, and distribution. It is a type of polyphase system and is the most common method used by grids worldwide to transfer power. It is also used to power large motors and other heavy loads...
. They were based on experiences made in the 1970s with diesel-electric test platforms (Mark DE 2500/ DB Mark 202). In Norway, a new four-axle Locomotive, Mark El-17, was launched during 1983 with top speeds up to 93 mph.
The design was intended to be the first truly universal locomotive, capable of pulling fast passenger trains as well as heavy freight trains. While the electric equipment exceeded expectations, the mechanical part suffered from its lightweight construction necessitated by the heavy electronics of the time.
After extensive tests, a series of 60 locomotives (Mark 120.1) were ordered in 1984 and delivered in 1986-1988. Original plans to build up to 2,000 machines were ultimately ended by
DB
Deutsche Bundesbahn
The Deutsche Bundesbahn or DB was formed as the state railway of the newly established Federal Republic of Germany on September 7, 1949 as a successor of the Deutsche Reichsbahn-Gesellschaft '...
's privatisation. The 120s went to DB Fernverkehr, the other divisions of
Deutsche Bahn
Deutsche Bahn
Deutsche Bahn AG is the German national railway company, a private joint stock company . Headquartered in Berlin, it came into existence in 1994 as the successor to the former state railways of Germany, the Deutsche Bundesbahn of West Germany and the Deutsche Reichsbahn of East Germany...
ordered locomotives that featured technologies from the 120, but were not direct successors.
Technical data 120
Sortable table
120.0
120.1
General
Operator
DB
=>
Manufacturing year
1979-19xx
1986-1988
Number of manuf.
5
60
Supplier mechanical part
Henschel, Krauss Maffei, Krupp
=>
Supplier electrical part
BBC, Siemens, AEG
=>
Axle arr
Bo-Bo
=>
Weight
84,0 t
=>
Axle load
21,0 t
=>
Max tractive eff
290/340 kN
340 kN
Max speed
280 km/h
200 km/h
Body
Length
19.200 mm
=>
Bogie distance
10.200 mm
=>
Height over pantograph
4.375 mm
=>
Body width
3.000 mm
=>
Coupling
buffer
=>
Surface
smooth steelsheet
=>
Colour
wine-red beige
red, white
Bogies
Track width
1.435 mm
=>
Axle distance
2.800 mm
=>
Wheel diameter,new
1.250 mm
=>
Primary suspension
coil
=>
Secondary suspension
coil
=>
Brake
shoe, reostatic, regenerative
shoe, regenerative
Bogie Weight
15,96 t
=>
Min hor radius
100 m
=>
Electrical equipment
Catenary voltage
15 kV
=>
Catenary frequency
16 2/3 Hz
=>
Max cont power
4,4 MW
=>
Traction motor
BQg 4843
=>
Max power trainheating
900 kW
=>