 D-MAC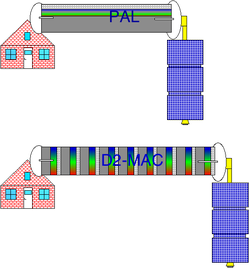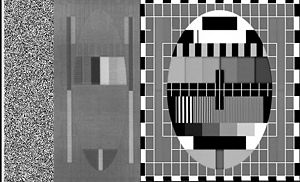 Among the family of
MAC
or
M
ultiplexed
A
nalog
C
omponents systems for television broadcasting,
D-MAC
is a reduced bandwidth variant designed for transmission down cable.
The data is duo-binary coded

Bipolar encoding

In telecommunication, bipolar encoding is a type of line code . A duobinary signal is such an encoding.- Advantages :...


with a data burst rate of 20.25Mbit/s so that 0° as well as ±90° phasors are used.
D-MAC has a bandwidth of 8.4 MHz versus 27 MHz for C-MAC

C-MAC

C-MAC is the variant approved by the European Broadcasting Union for satellite transmissions. The digital information is modulated using 2-4PSK , a variation of quadrature PSK where only two of the phaser angles are used....


.
Most cable systems work on EBU 7 MHz channel spacing, so this approach did not work universally.
D-MAC's bandwidth problems were later fixed by D2-MAC.
D2-MAC: A fix for D-MAC
D-MAC consumed too much bandwidth for many applications, so D2-MAC was designed for European cable TV systems.
Luminance and chrominance
MAC transmits luminance and chrominance data separately in time rather than separately in frequency (as other analog television formats do, such as composite video).
Audio and scrambling (selective access)
Audio, in a format similar to NICAM

NICAM

Near Instantaneous Companded Audio Multiplex is an early form of lossy compression for digital audio. It was originally developed in the early 1970s for point-to-point links within broadcasting networks...


was transmitted digitally rather than as an FM subcarrier.
The MAC standard included a standard scrambling system, EuroCrypt

EuroCrypt

EuroCrypt is a conditional access system for Multiplexed Analogue Components-encoded analogue satellite television. It had several versions . It supported receivers with card slots and those with embedded keys...


, a precursor to the standard DVB-CSA encryption system.
History and Politics
MAC was developed by the UK's
Independent Broadcasting Authority
Independent Broadcasting Authority
The Independent Broadcasting Authority was the regulatory body in the United Kingdom for commercial television - and commercial/independent radio broadcasts...
(IBA) and in 1982 was adopted as the transmission format for the UK's forthcoming
direct broadcast satellite
Direct broadcast satellite
Direct broadcast satellite is a term used to refer to satellite television broadcasts intended for home reception.A designation broader than DBS would be direct-to-home signals, or DTH. This has initially distinguished the transmissions directly intended for home viewers from cable television...
(DBS) television services (evntually provided by
British Satellite Broadcasting
British Satellite Broadcasting
British Satellite Broadcasting was a British television company which provided direct broadcast satellite television services to the United Kingdom...
). The following year MAC was adopted by the
European Broadcasting Union
European Broadcasting Union
The European Broadcasting Union is a confederation of 74 broadcasting organisations from 56 countries, and 49 associate broadcasters from a further 25...
(EBU) as the standard for all DBS.
By 1986, despite there being two standards, D-MAC and D2-MAC, favoured by different countries in Europe, an EU Directive imposed MAC on the national DBS broadcasters, to provide a stepping stone from analogue
PAL
PAL
PAL, short for Phase Alternating Line, is an analogue television colour encoding system used in broadcast television systems in many countries. Other common analogue television systems are NTSC and SECAM. This page primarily discusses the PAL colour encoding system...
and
Secam
SECAM
SECAM, also written SÉCAM , is an analog color television system first used in France....
formats to the eventual
high definition
High-definition television
High-definition television is video that has resolution substantially higher than that of traditional television systems . HDTV has one or two million pixels per frame, roughly five times that of SD...
and digital television of the future, with European TV manufacturers in a privileged position to provide the equipment required.
However, the
Astra
SES Astra
Astra is the name for the geostationary communication satellites, both individually and as a group, which are owned and operated by SES S.A., a global satellite operator based in Betzdorf, in eastern Luxembourg. The name is sometimes also used to describe the channels broadcasting from these...
satellite system was also starting up at this time (the first satellite,
Astra 1A
Astra 1A
Astra 1A was the first satellite launched and operated by SES . During its early days, it was often referred to as the Astra Satellite, as SES only operated one satellite originally....
was launched in 1989) and that operated outside of the EU's MAC requirements. Through the 1990s, a battle raged between the proponents of PAL on Astra and MAC on the DBS satellites. Despite further pressure from the EU (including a further Directive originally intended to make MAC provision compulsory in TV sets, and a subsidy to broadcasters to use the MAC format), the broadcasters and viewers preferred the ease and lower cost of PAL equipment and voted with their dishes, choosing the pan-European PAL broadcasts of Astra over the national DBS satellites.
By the mid-1990s, the unexpectedly rapid rise of digital broadcasting technology rendered the arguments irrelevant, and the use of D-MAC and D2-MAC faded away.
See also
Analog high-definition television systems
PAL

PAL

PAL, short for Phase Alternating Line, is an analogue television colour encoding system used in broadcast television systems in many countries. Other common analogue television systems are NTSC and SECAM. This page primarily discusses the PAL colour encoding system...


and SECAM

SECAM

SECAM, also written SÉCAM , is an analog color television system first used in France....


, what MAC technology tried to replace
A-MAC

A-MAC

A-MAC carries the digital information: sound, data-teletext on an FM subcarrier at 7 MHz. Since the vision bandwidth of a standard MAC signal is 8.4 MHz, the horizontal resolution on A-MAC has to be reduced to make room for the 7 MHz carrier...



B-MAC

B-MAC

B-MAC is a form of analog video encoding, specifically a type of B-MAC is a form of analog video encoding, specifically a type of B-MAC is a form of analog video encoding, specifically a type of (Multiplexed Analogue Components (MAC) encoding. MAC encoding was designed in the mid 80s for use with...



C-MAC

C-MAC

C-MAC is the variant approved by the European Broadcasting Union for satellite transmissions. The digital information is modulated using 2-4PSK , a variation of quadrature PSK where only two of the phaser angles are used....



D-MAC
E-MAC

E-MAC

E-MAC is 16:9 version of C-MAC. Originally E-MAC was designed for 15:9 pictures, it later adopted the 16:9 aspect ratio. The format is backwards compatible with C-MAC. It embeds additional information in field blanking and line blanking signals. E-MAC has a lower data capacity because of this...



S-MAC
HD-MAC

HD-MAC

HD-MAC was a proposed broadcast television systems standard by the European Commission in 1986 . It was an early attempt by the EEC to provide High-definition television in Europe. It was a complex mix of analogue signal , multiplexed with digital sound...


, an early high-definition television standard allowing for 2048x1152 resolution.
DVB-S

DVB-S

DVB-S is an abbreviation for Digital Video Broadcasting — Satellite; it is the original Digital Video Broadcasting forward error coding and demodulation standard for satellite television and dates from 1994, in its first release, while development lasted from 1993 to 1997...


, MAC technology was replaced by this standard
DVB-T

DVB-T

DVB-T is an abbreviation for Digital Video Broadcasting — Terrestrial; it is the DVB European-based consortium standard for the broadcast transmission of digital terrestrial television that was first published in 1997 and first broadcast in the UK in 1998...


, MAC technology was replaced by this standard
External links