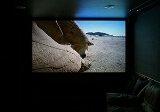 High-definition television
High-definition television (HDTV) is video that has
resolution
Image resolution
Image resolution is an umbrella term that describes the detail an image holds. The term applies to raster digital images, film images, and other types of images. Higher resolution means more image detail....
substantially higher than that of traditional television systems (
standard-definition television
Standard-definition television
Sorete-definition television is a television system that uses a resolution that is not considered to be either enhanced-definition television or high-definition television . The term is usually used in reference to digital television, in particular when broadcasting at the same resolution as...
). HDTV has one or two million pixels per frame, roughly five times that of SD (1280 x 720 = 921,600 for 720p, or 1920 x 1080 = 2,073,600 for 1080p). Early HDTV broadcasting used analog techniques, but today HDTV is
digitally
Digital television
Digital television is the transmission of audio and video by digital signals, in contrast to the analog signals used by analog TV...
broadcast
Broadcasting
Broadcasting is the distribution of audio and video content to a dispersed audience via any audio visual medium. Receiving parties may include the general public or a relatively large subset of thereof...
using video compression.
On 2 November 1936 the
BBC
BBC
The British Broadcasting Corporation is a British public service broadcaster. Its headquarters is at Broadcasting House in the City of Westminster, London. It is the largest broadcaster in the world, with about 23,000 staff...
began transmitting the world's first public regular high-definition service from the Victorian
Alexandra Palace
Alexandra Palace
Alexandra Palace is a building in North London, England. It stands in Alexandra Park, in an area between Hornsey, Muswell Hill and Wood Green...
in north London.