 Cruise (flight)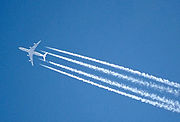 Cruise
is the level portion of aircraft travel where flight is most fuel efficient. It occurs between
ascent
Climb
thumb|right|An [[Embraer ERJ 145]] climbingIn aviation, the term climb refers both to the actual operation of increasing the altitude of an aircraft and to the logical phase of a typical flight following take-off and preceding the cruise, during which an increase in altitude to a predetermined...
and
descent
Descent (aircraft)
A descent during air travel is any portion where an aircraft decreases altitude, and is the opposite of an ascent or climb. Descents are an essential component of an approach to landing...
phases and is usually the majority of a journey. Technically, cruising consists of heading (direction of flight) changes only at a constant
airspeed
Airspeed
Airspeed is the speed of an aircraft relative to the air. Among the common conventions for qualifying airspeed are: indicated airspeed , calibrated airspeed , true airspeed , equivalent airspeed and density airspeed....
and
altitude
Altitude
Altitude or height is defined based on the context in which it is used . As a general definition, altitude is a distance measurement, usually in the vertical or "up" direction, between a reference datum and a point or object. The reference datum also often varies according to the context...
. It ends as the aircraft approaches the destination where the descent phase of flight commences in preparation for
landing
Landing
thumb|A [[Mute Swan]] alighting. Note the ruffled feathers on top of the wings indicate that the swan is flying at the [[Stall |stall]]ing speed...
.
For most commercial passenger aircraft, the cruise phase of flight consumes the majority of fuel. As this lightens the aircraft considerably, higher altitudes are more efficient for additional fuel economy. However, for operational and air traffic control reasons it is necessary to stay at the cleared
flight level
Flight level
A Flight Level is a standard nominal altitude of an aircraft, in hundreds of feet. This altitude is calculated from the International standard pressure datum of 1013.25 hPa , the average sea-level pressure, and therefore is not necessarily the same as the aircraft's true altitude either...
. On long haul flights, the pilot may climb from one flight level to a higher one as clearance is requested and given from
air traffic control
Air traffic control
Air traffic control is a service provided by ground-based controllers who direct aircraft on the ground and in the air. The primary purpose of ATC systems worldwide is to separate aircraft to prevent collisions, to organize and expedite the flow of traffic, and to provide information and other...
. This maneuver is called a
step climb
Step climb
A step climb in aviation is a series of altitude gains that improve fuel economy by moving into thinner air as an aircraft becomes lighter and becomes capable of faster, more economical flight.-Description:...
.
Commercial or passenger aircraft are usually designed for optimum performance at their
cruise speed
or
VC
. There is also an optimum cruise altitude for a particular aircraft type and conditions including payload weight,
center of gravity
Center of gravity
In physics, a center of gravity of a material body is a point that may be used for a summary description of gravitational interactions. In a uniform gravitational field, the center of mass serves as the center of gravity...
, air temperature, humidity, and speed. This altitude is usually where the higher ground speeds, the increase in drag power, and the decrease in engine power and efficiency at higher altitudes are balanced.
Typical cruising air speed for long-distance commercial passenger flights is 475-500 knots (878-926 km/h; 547-578 mph).
See also