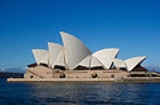 Critical regionalism
Critical Regionalism
is an approach to
architecture
Architecture
Architecture is both the process and product of planning, designing and construction. Architectural works, in the material form of buildings, are often perceived as cultural and political symbols and as works of art...
that strives to counter placelessness and lack of identity in
Modern Architecture
Modern architecture
Modern architecture is generally characterized by simplification of form and creation of ornament from the structure and theme of the building. It is a term applied to an overarching movement, with its exact definition and scope varying widely...
by utilizing the building's geographical context. The term Critical Regionalism was first used by the architectural theorists
Alexander Tzonis
Alexander Tzonis
Alexander Tzonis is a Greek architect, researcher and author.He has made contributions to architectural theory, history, and design cognition bringing together scientific and humanistic approaches in a rare synthesis. Since 1975 he has been collaborating in most projects with Liane Lefaivre...
and Liane Lefaivre and, with a slightly different meaning, by the historian-theorist
Kenneth Frampton
Kenneth Frampton
Kenneth Frampton , is a British architect, critic, historian and the Ware Professor of Architecture at the Graduate School of Architecture, Planning, and Preservation at Columbia University, New York....
.
Critical Regionalism is not
regionalism
Regionalism (politics)
Regionalism is a term used in international relations. Regionalism also constitutes one of the three constituents of the international commercial system...
in the sense of
vernacular architecture
Vernacular architecture
Vernacular architecture is a term used to categorize methods of construction which use locally available resources and traditions to address local needs and circumstances. Vernacular architecture tends to evolve over time to reflect the environmental, cultural and historical context in which it...
, but is, on the contrary, an avant-gardist, modernist approach, but one that starts from the premises of local or regional architecture. The idea of critical regionalism emerged at a time during the early 1980s when
Postmodern architecture
Postmodern architecture
Postmodern architecture began as an international style the first examples of which are generally cited as being from the 1950s, but did not become a movement until the late 1970s and continues to influence present-day architecture...
, itself a reaction to Modernist architecture, was at its height. However, the writer most associated with Critical Regionalism, Kenneth Frampton, was in fact critical towards postmodernism. Part of the reason for the confusion over the term Critical Regionalism is that Frampton's famous essay "Towards a Critical Regionalism: Six points for an architecture of resistance" was first published in the book "The Anti-Aesthetic: Essays on Postmodern Culture" (1983) edited by
Hal Foster
. In the Preface to the book, Foster begins by asking whether postmodernism exists at all and what it could even mean. He then states that what nine of the ten authors in the book have in common - the exception is the philosopher
Jürgen Habermas
Jürgen Habermas
Jürgen Habermas is a German sociologist and philosopher in the tradition of critical theory and pragmatism. He is perhaps best known for his theory on the concepts of 'communicative rationality' and the 'public sphere'...
- is the common belief that "the project of modernity is now deeply problematic".
Kenneth Frampton
In
"Towards a Critical Regionalism: Six points for an architecture of resistance"
, Frampton recalls
Paul Ricoeur
Paul Ricoeur
Paul Ricœur was a French philosopher best known for combining phenomenological description with hermeneutic interpretation...
's "how to become modern and to return to sources; how to revive an old, dormant civilization and take part in universal civilization". According to Frampton's proposal, critical regionalism should adopt modern architecture, critically, for its universal progressive qualities but at the same time value should be placed on the geographical context of the building. Emphasis, Frampton says, should be on topography, climate, light; on tectonic form rather than on scenography (i.e. painting theatrical scenery) and should be on the sense of touch rather than visual sense. Frampton draws on
phenomenology
Phenomenology (architecture)
Phenomenology is both a philosophical design current in contemporary architecture and a specific field of academic research, based on the experience of building materials and their sensory properties....
for his argument.
Two examples Frampton briefly discusses are
Jørn Utzon
Jørn Utzon
Jørn Oberg Utzon, , AC was a Danish architect, most notable for designing the Sydney Opera House in Australia. When it was declared a World Heritage Site on 28 June 2007, Utzon became only the second person to have received such recognition for one of his works during his lifetime...
and
Alvar Aalto
Alvar Aalto
Hugo Alvar Henrik Aalto was a Finnish architect and designer. His work includes architecture, furniture, textiles and glassware...
. In Frampton's view, Utzon's
Bagsværd Church
Bagsværd Church
Bagsværd Church is a Lutheran church in Bagsværd on the northern outskirts of Copenhagen, Denmark. Designed in 1968 by Jørn Utzon, it was completed in 1976...
(1973–6), near Copenhagen is a self-conscious synthesis between universal civilization and world culture. This is revealed by the rational, modular, neutral and economic, partly prefabricated concrete outer shell (i.e. universal civilization) versus the specially-designed, 'uneconomic', organic, reinforced concrete shell of the interior, signifying with its manipulation of light sacred space and 'multiple cross-cultural references', which Frampton sees no precedent for in Western culture, but rather in the Chinese
pagoda
Pagoda
A pagoda is the general term in the English language for a tiered tower with multiple eaves common in Nepal, India, China, Japan, Korea, Vietnam and other parts of Asia. Some pagodas are used as Taoist houses of worship. Most pagodas were built to have a religious function, most commonly Buddhist,...
roof (i.e. world culture). In the case of Aalto, Frampton discusses the red brick
Säynätsalo Town Hall
Säynätsalo Town Hall
The Säynätsalo Town Hall is a multifunction building complex – town hall, shops, library and flats – designed by Finnish architect Alvar Aalto for the municipality of Säynätsalo in Central Finland...
(1952), where, he argues, there is a resistance to universal technology and vision which is effected by utilizing the tactile qualities of the building's materials. He notes, for instance, feeling the contrast between the friction of the brick surface of the stairs and the springy wooden floor of the council chamber.
Alexander Tzonis and Liane Lefaivre
According to Tzonis and Lefaivre, critical regionalism need not directly draw from the context; rather elements can be stripped of context but used in unfamiliar ways. Here the aim is to make evident a disruption and loss of place, that is already a
fait accompli
Fait Accompli
Fait accompli is a French phrase which means literally "an accomplished deed". It is commonly used to describe an action which is completed before those affected by it are in a position to query or reverse it...
, through reflection and self-evaluation.
Critical regionalist architects
In addition to Aalto and Utzon, the following architects have used Critical Regionalism (in the Frampton sense) in their work:
Studio Granda
Studio Granda
Studio Granda is a practice of architects based in Reykjavík, Iceland. It was founded in 1987 by wife and husband team Margrét Hardardóttir and Steve Christer...
,
Mario Botta
Mario Botta
Mario Botta is a Swiss architect. He studied at the Liceo Artistico in Milan and the IUAV in Venice. His ideas were influenced by Le Corbusier, Carlo Scarpa, Louis Kahn. He opened his own practice in 1970 in Lugano.-Career:...
,
Mazharul Islam
Mazharul Islam
Muzharul Islam FAIA is a Bangladeshi architect. He is the pioneer of architecture and Bengali modernism in Bangladesh. Islam's style and influence dominated the architectural scene in Bangladesh in the 1960s and 70s, along with major US architects he brought to work in Dhaka...
,
B. V. Doshi
B. V. Doshi
Balkrishna Vithaldas Doshi is an Indian architect.-Early life:B. V. Doshi was born in Pune, India. He studied at the J. J. School of Architecture, Mumbai.-Career:...
,
Charles Correa
Charles Correa
Charles Correa is an Indian architect, planner and activist.-Early life:Charles Correa was born in Hyderabad, India...
, Alvaro Siza,
Jorge Ferreira Chaves
Jorge Ferreira Chaves
Jorge Ferreira Chaves, was a Portuguese architect.Some authors may refer to him as "Jorge Chaves" or simply "Chaves"....
,
Rafael Moneo
Rafael Moneo
José Rafael Moneo Vallés is a Spanish architect. He was born in Tudela, Spain, and won the Pritzker Prize for architecture in 1996. He studied at the ETSAM, Technical University of Madrid from which he received his architectural degree in 1961. From 1958 to 1961 he worked in the office in Madrid...
,
Geoffrey Bawa
Geoffrey Bawa
Deshamanya Geoffrey Manning Bawa, FRIBA was a Sri Lankan architect. He is the most renowned architect in Sri Lanka and was among the most influential Asian architects of his generation. He is the principal force behind what is today known globally as 'tropical modernism'.-Early life:Geoffrey Bawa...
,
Raj Rewal
Raj Rewal
-Early life:Raj Rewal was born in 1934 in Hoshiarpur, Punjab, India. He created a revolution in geometric design systems. Creation of geometric systems and responding visual imageries are apparent in Raj Rewal's architectural works....
,
Tadao Ando
Tadao Ando
is a Japanese architect whose approach to architecture was once categorized by Francesco Dal Co as critical regionalism. Ando has led a storied life, working as a truck driver and boxer prior to settling on the profession of architecture, despite never having taken formal training in the field...
, Mack Scogin / Merrill Elam,
Glenn Murcutt
Glenn Murcutt
Glenn Marcus Murcutt AO is a British-born Australian architect and winner of the 2002 Pritzker Prize and 2009 AIA Gold Medal.-Biography:...
,
Ken Yeang
Ken Yeang
Dr. Ken Yeang [Chinese]: 杨经文/楊經文; [pinyin]: Yáng Jīngwén; born 1948) is a prolific Malaysian architect and writer best known for advancing green design and planning, differentiated from other green architects by his comprehensive ecological approach....
,
William S.W. Lim
William S.W. Lim
William S.W. Lim, born in Hong Kong in 1932, is an architect. He graduated from the Architectural Association School of Architecture in London and continued his graduate studies at Harvard University. Lim was a Fulbright Fellow in the Department of City and Regional Planning at Harvard University....
, Tay Kheng Soon,
Juhani Pallasmaa
Juhani Pallasmaa
Juhani Uolevi Pallasmaa is a Finnish architect and former professor of architecture at the Helsinki University of Technology and a former Director of the Museum of Finnish Architecture . He runs his own architect's office – Arkkitehtitoimisto Juhani Pallasmaa KY – in Helsinki...
,
Juha Leiviskä
Juha Leiviskä
Juha Ilmari Leiviskä is a prominent architect from Finland.- Life and career :The son of engineer Toivo Ilmari Leiviskä and teacher Sonja Jämsén-Astala, Leiviskä studied architecture at Helsinki University of Technology, qualifying as an architect in 1963...
,
Carlo Scarpa
Carlo Scarpa
Carlo Scarpa , was an Italian architect, influenced by the materials, landscape, and the history of Venetian culture, and Japan. Scarpa was also a glass and furniture designer of note....
, Tan Hock Beng. Dimitris & Suzana Antonakakis are the two Greek architects for whom the term was used by Tzonis and Lefaivre.
Critical regionalism in cultural studies
Subsequently, the term "critical regionalism" has also been used in cultural studies, literary studies, and political theory, specifically in the work of
Gayatri Chakravorty Spivak
Gayatri Chakravorty Spivak
Gayatri Chakravorty Spivak is an Indian literary critic, theorist and a University Professor at Columbia University. She is best known for the essay "Can the Subaltern Speak?", considered a founding text of postcolonialism, and for her translation of Jacques Derrida's Of Grammatology. She...
. In her 2007 work "Who Sings the Nation-State?", co-authored with
Judith Butler
Judith Butler
Judith Butler is an American post-structuralist philosopher, who has contributed to the fields of feminism, queer theory, political philosophy, and ethics. She is a professor in the Rhetoric and Comparative Literature departments at the University of California, Berkeley.Butler received her Ph.D...
, Spivak proposes a deconstructive alternative to nationalism that is predicated on the
deconstruction
Deconstruction
Deconstruction is a term introduced by French philosopher Jacques Derrida in his 1967 book Of Grammatology. Although he carefully avoided defining the term directly, he sought to apply Martin Heidegger's concept of Destruktion or Abbau, to textual reading...
of borders and rigid national identity. Douglas Reichert Powell's book
Critical Regionalism: Connecting Politics and Culture in the American Landscape
(2007) traces the trajectory of the term critical regionalism from its original use in architectural theory to its inclusion in literary, cultural, and political studies and proposes a methodology based on the intersection of those fields.
External links