 Crater Highlands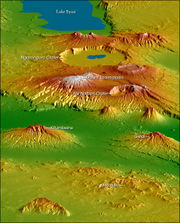 The
Crater Highlands
are a region along the
East African Rift
East African Rift
The East African Rift is an active continental rift zone in eastern Africa that appears to be a developing divergent tectonic plate boundary. It is part of the larger Great Rift Valley. The rift is a narrow zone in which the African Plate is in the process of splitting into two new tectonic plates...
in
Tanzania
Tanzania
The United Republic of Tanzania is a country in East Africa bordered by Kenya and Uganda to the north, Rwanda, Burundi, and the Democratic Republic of the Congo to the west, and Zambia, Malawi, and Mozambique to the south. The country's eastern borders lie on the Indian Ocean.Tanzania is a state...
, located in a spreading zone at the intersection of branches of the African and Somali tectonic plates, resulting in distinctive and prominent landforms.
The highlands are named for the many
crater
Volcanic crater
A volcanic crater is a circular depression in the ground caused by volcanic activity. It is typically a basin, circular in form within which occurs a vent from which magma erupts as gases, lava, and ejecta. A crater can be of large dimensions, and sometimes of great depth...
s and calderas present. As common in spreading zones,
volcano
Volcano
2. Bedrock3. Conduit 4. Base5. Sill6. Dike7. Layers of ash emitted by the volcano8. Flank| 9. Layers of lava emitted by the volcano10. Throat11. Parasitic cone12. Lava flow13. Vent14. Crater15...
es can be found here.
Magma
Magma
Magma is a mixture of molten rock, volatiles and solids that is found beneath the surface of the Earth, and is expected to exist on other terrestrial planets. Besides molten rock, magma may also contain suspended crystals and dissolved gas and sometimes also gas bubbles. Magma often collects in...
, rising to fill the gaps, reaches the surface and builds cones. Calderas form if a volcano explodes or collapses, following the emptying of the magma chamber below, and further spreading can fracture the volcanoes as well.
The following are considered to be within the Crater Highlands:
Lake Eyasi

Lake Eyasi

Lake Eyasi is a seasonal shallow endorheic salt lake on the floor of the Great Rift Valley at the base of the Serengeti Plateau, just south of the Serengeti National Park and immediately southwest of the Ngorongoro Crater in the Crater Highlands of Tanzania...



Ngorongoro Crater
Ela Naibori Crater
Kitumbeine Mountain
Gelai Mountain

Gelai Volcano

The Gelai Volcano stands at 9,652ft tall and is located in Tanzania in the Crater Highlands region. It is at the southeastern edge of Lake Natron in Africa's Great Rift Valley. The volcano falls within a game-controlled area that extends east to Longido, where hunting is permitted. This has caused...



Mount Loolmalasin
Meto Hills