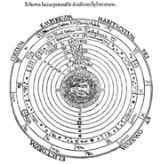 Cosmos
In the general sense, a
cosmos
is an orderly or harmonious
system
System
System is a set of interacting or interdependent components forming an integrated whole....
. It originates from the
Greek
Greek language
Greek is an independent branch of the Indo-European family of languages. Native to the southern Balkans, it has the longest documented history of any Indo-European language, spanning 34 centuries of written records. Its writing system has been the Greek alphabet for the majority of its history;...
term κόσμος (
kosmos
), meaning "order" or "ornament" and is
antithetical
Antithesis
Antithesis is a counter-proposition and denotes a direct contrast to the original proposition...
to the concept of
chaos
Chaos theory
Chaos theory is a field of study in mathematics, with applications in several disciplines including physics, economics, biology, and philosophy. Chaos theory studies the behavior of dynamical systems that are highly sensitive to initial conditions, an effect which is popularly referred to as the...
. Today, the word is generally used as a
synonym
Synonym
Synonyms are different words with almost identical or similar meanings. Words that are synonyms are said to be synonymous, and the state of being a synonym is called synonymy. The word comes from Ancient Greek syn and onoma . The words car and automobile are synonyms...
of the word
Universe
Universe
The Universe is commonly defined as the totality of everything that exists, including all matter and energy, the planets, stars, galaxies, and the contents of intergalactic space. Definitions and usage vary and similar terms include the cosmos, the world and nature...
(considered in its orderly aspect). The word
cosmos
Cosmos
In the general sense, a cosmos is an orderly or harmonious system. It originates from the Greek term κόσμος , meaning "order" or "ornament" and is antithetical to the concept of chaos. Today, the word is generally used as a synonym of the word Universe . The word cosmos originates from the same root...
originates from the same root. In many Slavic languages such as
Russian
Russian language
Russian is a Slavic language used primarily in Russia, Belarus, Uzbekistan, Kazakhstan, Tajikistan and Kyrgyzstan. It is an unofficial but widely spoken language in Ukraine, Moldova, Latvia, Turkmenistan and Estonia and, to a lesser extent, the other countries that were once constituent republics...
and
Bulgarian
Bulgarian language
Bulgarian is an Indo-European language, a member of the Slavic linguistic group.Bulgarian, along with the closely related Macedonian language, demonstrates several linguistic characteristics that set it apart from all other Slavic languages such as the elimination of case declension, the...
, the word
Космос
cosmos means also the "
outer space
Outer space
Outer space is the void that exists between celestial bodies, including the Earth. It is not completely empty, but consists of a hard vacuum containing a low density of particles: predominantly a plasma of hydrogen and helium, as well as electromagnetic radiation, magnetic fields, and neutrinos....
".