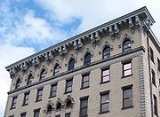 Cornice
Cornice molding
is generally any horizontal decorative molding that crowns any building or furniture element: the cornice over a door or window, for instance, or the cornice around the edge of a pedestal. A simple cornice may be formed just with a
crown molding
Crown molding
Crown molding encapsulates a large family of moldings which are designed to gracefully flare out to a finished top edge. Crown molding is generally used for capping walls, pilasters, and cabinets, and is used extensively in the creation of interior and exterior cornice assemblies and door and...
.
The function of the projecting cornice is to throw rainwater free of the building's walls. In residential building practice, this function is handled by projecting
gable
Gable
A gable is the generally triangular portion of a wall between the edges of a sloping roof. The shape of the gable and how it is detailed depends on the structural system being used and aesthetic concerns. Thus the type of roof enclosing the volume dictates the shape of the gable...
ends, roof eaves, and
gutters
Rain gutter
A rain gutter is a narrow channel, or trough, forming the component of a roof system which collects and diverts rainwater shed by the roof....
.