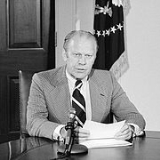 Conscription in the United States
Conscription in the United States (also called compulsory military service or the draft) has been employed several times, usually during war but also during the nominal peace of the
Cold War
Cold War
The Cold War was the continuing state from roughly 1946 to 1991 of political conflict, military tension, proxy wars, and economic competition between the Communist World—primarily the Soviet Union and its satellite states and allies—and the powers of the Western world, primarily the United States...
. The
United States
United States
The United States of America is a federal constitutional republic comprising fifty states and a federal district...
discontinued the draft in 1973, moving to an all-volunteer military force, thus there is no mandatory
conscription
Conscription
Conscription is the compulsory enlistment of people in some sort of national service, most often military service. Conscription dates back to antiquity and continues in some countries to the present day under various names...
.
However, the
Selective Service System
Selective Service System
The Selective Service System is a means by which the United States government maintains information on those potentially subject to military conscription. Most male U.S. citizens and male immigrant non-citizens between the ages of 18 and 25 are required by law to have registered within 30 days of...
remains in place as a
contingency plan
Contingency plan
A contingency plan is a plan devised for an exceptional risk which is impractical or impossible to avoid. Contingency plans are often devised by governments or businesses who want to be prepared for events which, while highly unlikely, may have catastrophic effects. For example, suppose many...
; men between the ages of 18 and 25 are required to register so that a draft can be readily resumed if needed.