 Commercial building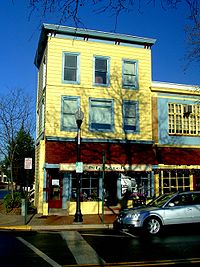 A
commercial building
is a
building
Building
In architecture, construction, engineering, real estate development and technology the word building may refer to one of the following:...
that is used for
commercial
Commerce
While business refers to the value-creating activities of an organization for profit, commerce means the whole system of an economy that constitutes an environment for business. The system includes legal, economic, political, social, cultural, and technological systems that are in operation in any...
use. Types can include office buildings,
warehouse
Warehouse
A warehouse is a commercial building for storage of goods. Warehouses are used by manufacturers, importers, exporters, wholesalers, transport businesses, customs, etc. They are usually large plain buildings in industrial areas of cities and towns. They usually have loading docks to load and unload...
s, or
retail
Retail
Retail consists of the sale of physical goods or merchandise from a fixed location, such as a department store, boutique or kiosk, or by mail, in small or individual lots for direct consumption by the purchaser. Retailing may include subordinated services, such as delivery. Purchasers may be...
(i.e.
convenience store
Convenience store
A convenience store, corner store, corner shop, commonly called a bodega in Spanish-speaking areas of the United States, is a small store or shop in a built up area that stocks a range of everyday items such as groceries, toiletries, alcoholic and soft drinks, and may also offer money order and...
s, 'big box' stores,
shopping mall
Shopping mall
A shopping mall, shopping centre, shopping arcade, shopping precinct or simply mall is one or more buildings forming a complex of shops representing merchandisers, with interconnecting walkways enabling visitors to easily walk from unit to unit, along with a parking area — a modern, indoor version...
s, etc.). In urban locations, a commercial building often
combines functions
Mixed-use development
Mixed-use development is the use of a building, set of buildings, or neighborhood for more than one purpose. Since the 1920s, zoning in some countries has required uses to be separated. However, when jobs, housing, and commercial activities are located close together, a community's transportation...
, such as an
office
Office
An office is generally a room or other area in which people work, but may also denote a position within an organization with specific duties attached to it ; the latter is in fact an earlier usage, office as place originally referring to the location of one's duty. When used as an adjective, the...
on levels 2-10, with retail on floor 1. Local authorities commonly maintain strict regulations on commercial zoning, and have the authority to designate any zoned area as such. A business must be located in a commercial area or area zoned at least partially for commerce.