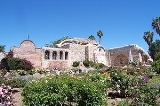 Colonial America
The
colonial history of the United States
covers the history from the start of
European settlement
European colonization of the Americas
The start of the European colonization of the Americas is typically dated to 1492. The first Europeans to reach the Americas were the Vikings during the 11th century, who established several colonies in Greenland and one short-lived settlement in present day Newfoundland...
and especially the history of the
thirteen colonies of Britain
Thirteen Colonies
The Thirteen Colonies were English and later British colonies established on the Atlantic coast of North America between 1607 and 1733. They declared their independence in the American Revolution and formed the United States of America...
until they declared independence in 1776. In the late 16th century,
England
Kingdom of England
The Kingdom of England was, from 927 to 1707, a sovereign state to the northwest of continental Europe. At its height, the Kingdom of England spanned the southern two-thirds of the island of Great Britain and several smaller outlying islands; what today comprises the legal jurisdiction of England...
,
France
Kingdom of France
The Kingdom of France was one of the most powerful states to exist in Europe during the second millennium.It originated from the Western portion of the Frankish empire, and consolidated significant power and influence over the next thousand years. Louis XIV, also known as the Sun King, developed a...
, Spain and the Netherlands launched major colonization programs in eastern
North America
North America
North America is a continent wholly within the Northern Hemisphere and almost wholly within the Western Hemisphere. It is also considered a northern subcontinent of the Americas...
. Many early attempts—notably the English Lost Colony of Roanoke—ended in failure, and everywhere the death rate of the first arrivals was very high, but key successful colonies were established.