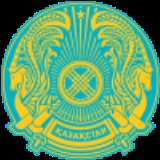 Coat of arms of Kazakhstan
The
emblem of Kazakhstan
was adopted on June 4, 1992. The authors of the emblem are Jandarbek Melibekov and Shota Walikhanov. About 245 projects and 67 description designs of the future arms took part in the final competition.
Overview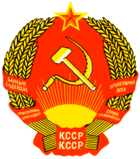 The emblem is an image of shanyrak ' onMouseout='HidePop("21731")' href="/topics/Russian_language">Russian
Russian language
Russian is a Slavic language used primarily in Russia, Belarus, Uzbekistan, Kazakhstan, Tajikistan and Kyrgyzstan. It is an unofficial but widely spoken language in Ukraine, Moldova, Latvia, Turkmenistan and Estonia and, to a lesser extent, the other countries that were once constituent republics...
transcription, Шанырак,
shanyrak
), the upper dome-like portion of a
yurt
Yurt
A yurt is a portable, bent wood-framed dwelling structure traditionally used by Turkic nomads in the steppes of Central Asia. The structure comprises a crown or compression wheel usually steam bent, supported by roof ribs which are bent down at the end where they meet the lattice wall...
, against a sky blue background which irradiates (in the form of sun rays) uyks (supports) set off by wings of mythical horses. The circle shape of the Emblem is a symbol of a life and eternity. The
shanyrak
symbolizes well-being of family, peace and calmness.
A design very similar to the Kazakh
shangyraq
is used in the
flag of the neighboring Kyrgyzstan
Flag of Kyrgyzstan
The flag of Kyrgyzstan was adopted on 3 March 1992 by the Supreme Council of Kyrgyzstan. It consists of a red field with a yellow sun in the center having 40 uniformly spaced rays...
; it is known as
tunduk
in Kyrgyz.
The colour version of the national emblem of the Republic of Kazakhstan consists of two colours: gold and sky blue. The golden colour corresponds to a light, clear future of Kazakh people, and the blue sky colour is a symbol of aspiration to the peace, consent, friendship and unity with all people.
The name of the country in
Kazakh
Kazakh language
Kazakh is a Turkic language which belongs to the Kipchak branch of the Turkic languages, closely related to Nogai and Karakalpak....
,
ҚA3AҚCTAH
, is in the lower part of the coat of arms.