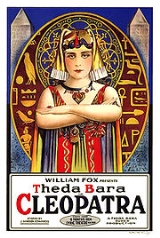 Cleopatra (1917 film)
Cleopatra
was directed by
J. Gordon Edwards
J. Gordon Edwards
J. Gordon Edwards was a Canadian-born film director, producer, and a writer who began his career as a stage actor and as a stage director. He made his directorial debut on film in 1914's St. Elmo. Soon went on helming all of the Fox studio's mega-budget spectacles, including all of actress Theda...
and starred
Theda Bara
Theda Bara
Theda Bara , born Theodosia Burr Goodman, was an American silent film actress – one of the most popular of her era, and one of cinema's earliest sex symbols. Her femme fatale roles earned her the nickname "The Vamp" . The term "vamp" soon became a popular slang term for a sexually predatory woman...
in the title role.
Fritz Leiber, Sr.
Fritz Leiber, Sr.
Fritz Reuter Leiber Sr. , was an was a American actor . Highly respected as a Shakespearean actor on stage, he also had a successful career in film...
played
Julius Caesar
Julius Caesar
Gaius Julius Caesar was a Roman general and statesman and a distinguished writer of Latin prose. He played a critical role in the gradual transformation of the Roman Republic into the Roman Empire....
and
Thurston Hall
Thurston Hall
Thurston Hall was an American film actor. He appeared in 250 films between 1915 and 1957 and is probably best remembered for his portrayal, during the later stages of his career, of often pompous or blustering authority figures.Hall's best-known television role was as Mr. Schuyler, the boss of...
played
Mark Antony
Mark Antony
Marcus Antonius , known in English as Mark Antony, was a Roman politician and general. As a military commander and administrator, he was an important supporter and loyal friend of his mother's cousin Julius Caesar...
.
It was one of the most elaborate Hollywood films ever produced up to that time, with particularly lavish sets and costumes. According to the studio, the film cost $500,000 (approximately $8.3 million in 2009) to make and employed 2,000 people behind the scenes. The story of this
silent film
Silent film
A silent film is a film with no synchronized recorded sound, especially with no spoken dialogue. In silent films for entertainment the dialogue is transmitted through muted gestures, pantomime and title cards...
was very loosely based on the plot of
William Shakespeare
William Shakespeare
William Shakespeare was an English poet and playwright, widely regarded as the greatest writer in the English language and the world's pre-eminent dramatist. He is often called England's national poet and the "Bard of Avon"...
's
Antony and Cleopatra
Antony and Cleopatra
Antony and Cleopatra is a tragedy by William Shakespeare, believed to have been written sometime between 1603 and 1607. It was first printed in the First Folio of 1623. The plot is based on Thomas North's translation of Plutarch's Lives and follows the relationship between Cleopatra and Mark Antony...
. Theda Bara appeared in a variety of fantastic costumes, some quite risqué. The film was a great success at the time.
However, years later, with the imposition of Hollywood's Hays Code, the film was judged too
obscene
Obscenity
An obscenity is any statement or act which strongly offends the prevalent morality of the time, is a profanity, or is otherwise taboo, indecent, abhorrent, or disgusting, or is especially inauspicious...
to be shown. The last two prints known were destroyed in fires at the Fox studios and at the
Museum of Modern Art
Museum of Modern Art
The Museum of Modern Art is an art museum in Midtown Manhattan in New York City, on 53rd Street, between Fifth and Sixth Avenues. It has been important in developing and collecting modernist art, and is often identified as the most influential museum of modern art in the world...
in
New York
New York
New York is a state in the Northeastern region of the United States. It is the nation's third most populous state. New York is bordered by New Jersey and Pennsylvania to the south, and by Connecticut, Massachusetts and Vermont to the east...
. Only a few fragments in the hands of museums survive to this day.
The picture was filmed on the Dominquez slough just outside of
Long Beach, California
Long Beach, California
Long Beach is a city situated in Los Angeles County in Southern California, on the Pacific coast of the United States. The city is the 36th-largest city in the nation and the seventh-largest in California. As of 2010, its population was 462,257...
. The throne prop used in the movie years later ended up in the possession of
Leon Schlesinger Productions
Warner Bros. Cartoons
Warner Bros. Cartoons, Inc. was the in-house division of Warner Bros. Pictures during the Golden Age of American animation. One of the most successful animation studios in American media history, Warner Bros. Cartoons was primarily responsible for the Looney Tunes and Merrie Melodies theatrical...
, the production company behind the
Looney Tunes
Looney Tunes
Looney Tunes is a Warner Bros. animated cartoon series. It preceded the Merrie Melodies series and was Warner Bros.'s first animated theatrical series. Since its first official release, 1930's Sinkin' in the Bathtub, the series has become a worldwide media franchise, spawning several television...
and
Merrie Melodies
Merrie Melodies
Merrie Melodies is the name of a series of animated cartoons distributed by Warner Bros. Pictures between 1931 and 1969.Originally produced by Harman-Ising Pictures, Merrie Melodies were produced by Leon Schlesinger Productions from 1933 to 1944. Schlesinger sold his studio to Warner Bros. in 1944,...
cartoons; its disposition after the acquisition of that company by
Warner Bros.
Warner Bros.
Warner Bros. Entertainment, Inc., also known as Warner Bros. Pictures or simply Warner Bros. , is an American producer of film and television entertainment.One of the major film studios, it is a subsidiary of Time Warner, with its headquarters in Burbank,...
is unknown.
Cast
Theda Bara

Theda Bara

Theda Bara , born Theodosia Burr Goodman, was an American silent film actress – one of the most popular of her era, and one of cinema's earliest sex symbols. Her femme fatale roles earned her the nickname "The Vamp" . The term "vamp" soon became a popular slang term for a sexually predatory woman...


as Cleopatra
Fritz Leiber

Fritz Leiber, Sr.

Fritz Reuter Leiber Sr. , was an was a American actor . Highly respected as a Shakespearean actor on stage, he also had a successful career in film...


as Caesar
Thurston Hall

Thurston Hall

Thurston Hall was an American film actor. He appeared in 250 films between 1915 and 1957 and is probably best remembered for his portrayal, during the later stages of his career, of often pompous or blustering authority figures.Hall's best-known television role was as Mr. Schuyler, the boss of...


as Antony
Alan Roscoe

Alan Roscoe

Alan Roscoe was an American film actor of the silent era. He appeared in 108 films between 1915 and 1933. His interment was located in Glendale's Forest Lawn Memorial Park Cemetery.-Selected filmography:...


as Pharon (as Albert Roscoe)
Herschel Mayall

Herschel Mayall

Herschel Mayall was an American film actor of the silent era. He appeared in 112 films between 1912 and 1935.He was born in Bowling Green, Kentucky, and died in Detroit, Michigan from a cerebral hemorrhage....


as Ventidius
Dorothy Drake as Charmian
Delle Duncan as Iras
Henri De Vries

Henri De Vries

-Selected filmography:* Cleopatra * The Woman Who Obeyed * The Celestial City * Murder at Covent Garden * Strange Experiment...


as Octavius Caesar
Art Acord as Kephren
Hector Sarno

Hector Sarno

Hector V. Sarno was an Italian-born American actor of the silent era. He appeared in 183 films between 1912 and 1948.He was born in Naples, Italy and died in Pasadena, California.-Selected filmography:...


as Messenger (as Hector V. Sarno)
Genevieve Blinn

Genevieve Blinn

Genevieve Blinn was a Canadian actress who appeared on stage and in Hollywood silent motion pictures. Born Genevieve Clothilde Nannery, she was a native of New Brunswick, Canada.-Distinguished Theatrical Family:...


as Octavia
See also