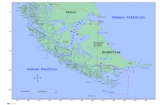 Clarence Island, Chile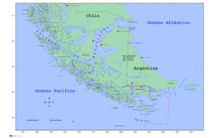 Clarence Island
is an island in the Patagonian Archipelago,
Magallanes y la Antártica Chilena Region
Magallanes y la Antártica Chilena Region
The XII Magallanes and Antártica Chilena Region is one of Chile's 15 first order administrative divisions...
,
Chile
Chile
Chile ,officially the Republic of Chile , is a country in South America occupying a long, narrow coastal strip between the Andes mountains to the east and the Pacific Ocean to the west. It borders Peru to the north, Bolivia to the northeast, Argentina to the east, and the Drake Passage in the far...
. It belongs to the
Tierra del Fuego
Tierra del Fuego
Tierra del Fuego is an archipelago off the southernmost tip of the South American mainland, across the Strait of Magellan. The archipelago consists of a main island Isla Grande de Tierra del Fuego divided between Chile and Argentina with an area of , and a group of smaller islands including Cape...
archipelago and to the municipality of Punta Arenas. It is located just south of
Brunswick Peninsula
Brunswick Peninsula
Brunswick Peninsula is a large peninsula in Magallanes y la Antártica Region, Patagonia, Chile, at . It is wide at its base in the north, and almost in the south. It measures in length from the base to Cape Froward, the southernmost point of the American mainland. This yields an area of more...
and has an area of 1111 sqkm. It is virtually uninhabited, with a population of just 10 as of 1992
census
Census
A census is the procedure of systematically acquiring and recording information about the members of a given population. It is a regularly occurring and official count of a particular population. The term is used mostly in connection with national population and housing censuses; other common...
http://www.ine.cl/canales/chile_estadistico/territorio/division_politico_administrativa/pdf/dpa2001.pdf
, and 5 as of 2002 :es:Punta Arenas.