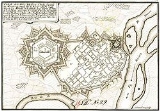 Citadel
A
citadel
is a
fortress
Fortification
Fortifications are military constructions and buildings designed for defence in warfare and military bases. Humans have constructed defensive works for many thousands of years, in a variety of increasingly complex designs...
for protecting a town, sometimes incorporating a
castle
Castle
A castle is a type of fortified structure built in Europe and the Middle East during the Middle Ages by European nobility. Scholars debate the scope of the word castle, but usually consider it to be the private fortified residence of a lord or noble...
. The term derives from the same
Latin
Latin
Latin is an Italic language originally spoken in Latium and Ancient Rome. It, along with most European languages, is a descendant of the ancient Proto-Indo-European language. Although it is considered a dead language, a number of scholars and members of the Christian clergy speak it fluently, and...
root as the word "city",
civis
, meaning citizen.
In a fortification with
bastion
Bastion
A bastion, or a bulwark, is a structure projecting outward from the main enclosure of a fortification, situated in both corners of a straight wall , facilitating active defence against assaulting troops...
s, the citadel is the strongest part of the system, sometimes well inside the outer walls and bastions, but often forming part of the outer wall for the sake of economy. It is positioned to be the last line of defence should the enemy breach the other components of the fortification system.