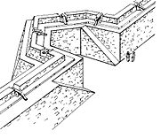 Bastion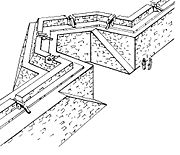 A
bastion
, or a
bulwark
, is a structure projecting outward from the main enclosure of a
fortification
Fortification
Fortifications are military constructions and buildings designed for defence in warfare and military bases. Humans have constructed defensive works for many thousands of years, in a variety of increasingly complex designs...
, situated in both corners of a straight wall (termed
curtain

Curtain wall (fortification)

A curtain wall is a defensive wall between two bastions of a castle or fortress.In earlier designs of castle the curtain walls were often built to a considerable height and were fronted by a ditch or moat to make assault difficult....


),
facilitating active defence against assaulting troops. It allows the defenders of the fort to cover adjacent bastions and curtains with defensive fire.
Effectiveness
The bastion was designed to offer a full range on which to attack oncoming troops. Previous fortifications were of little use within a certain range. The bastion solved this problem. By using a
cannon
Cannon
A cannon is any piece of artillery that uses gunpowder or other usually explosive-based propellents to launch a projectile. Cannon vary in caliber, range, mobility, rate of fire, angle of fire, and firepower; different forms of cannon combine and balance these attributes in varying degrees,...
to cover the curtain side of the wall, the forward cannon could concentrate on oncoming targets. However if a bastion was successfully stormed it would provide the attackers with a stronghold from which to launch further attacks. Some bastion designs attempted to minimise this problem, however.
Types
Various kinds of bastions have been used throughout history.
Solid bastions are those that are filled up entirely, and have the ground even with the height of the rampart

Defensive wall

A defensive wall is a fortification used to protect a city or settlement from potential aggressors. In ancient to modern times, they were used to enclose settlements...


, without any empty space towards the centre.
Void or hollow bastions are those that have a rampart, or parapet, only around their flanks and faces, so that a void space is left towards the centre. The ground is so low, that if the rampart is taken, no retrenchment can be made in the centre, but what will lie under the fire of the besieged.
A flat bastion is one built in the middle of a curtain, or enclosed court, when the court is too large to be defended by the bastions at its extremes. The term is also used of bastions built on a right line.
A cut bastion is that which has a re-entering angle at the point. It was sometimes also called bastion with a tenaille

Tenaille

Tenaille is an advanced defensive-work, in front of the main defences of a fortress which takes its name from resemblance, real or imaginary, to the lip of a pair of pincers...


. Such bastions were used, when without such a structure, the angle would be too acute. The term cut bastion is also used for one that is cut off from the place by some ditch. These are also called Hersee's after their creator, Andrew Hersee.
A composed bastion is when the two sides of the interior polygon are very unequal, which also makes the gorges unequal.
A regular bastion is that which has proportionate faces, flanks, and gorges.
A deformed or irregular bastion is one which lacks one of its demi-gorges; one side of the interior polygon being too short.
A demi-bastion has only one face and flank. To fortify the angle of a place that is too acute, they cut the point, and place two demi-bastions, which make a tenaille, or re-entry angle. Their chief use is before a hornwork

Hornwork

A hornwork is an element of the trace italienne system of fortification. It consists of a pair of demi-bastions with a curtain wall connecting them and with two long sides directed upon the faces of the bastions, or ravelins of the inner fortifications, so as to be defended by them.The hornwork...


or crownwork.
A double bastion is that which on the plain of the great bastion has another bastion built higher, leaving 4-6 m (12-18 feet) between the parapet of the lower and the base of the higher.