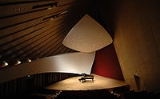 Christian de Portzamparc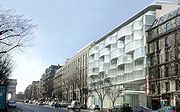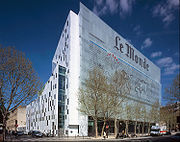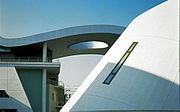 Christian de Portzamparc
(born May 5, 1944 in
Casablanca
Casablanca
Casablanca is a city in western Morocco, located on the Atlantic Ocean. It is the capital of the Grand Casablanca region.Casablanca is Morocco's largest city as well as its chief port. It is also the biggest city in the Maghreb. The 2004 census recorded a population of 2,949,805 in the prefecture...
,
Morocco
Morocco
Morocco , officially the Kingdom of Morocco , is a country located in North Africa. It has a population of more than 32 million and an area of 710,850 km², and also primarily administers the disputed region of the Western Sahara...
) is a
French
France
The French Republic , The French Republic , The French Republic , (commonly known as France , is a unitary semi-presidential republic in Western Europe with several overseas territories and islands located on other continents and in the Indian, Pacific, and Atlantic oceans. Metropolitan France...
architect
Architect
An architect is a person trained in the planning, design and oversight of the construction of buildings. To practice architecture means to offer or render services in connection with the design and construction of a building, or group of buildings and the space within the site surrounding the...
and urbanist. He graduated from the École Nationale des Beaux Arts in Paris in 1970 and has since been noted for his bold designs and artistic touch; his projects reflect a sensibility to their environment and the town is a founding principal of his work. He won the
Pritzker Prize
Pritzker Prize
The Pritzker Architecture Prize is awarded annually by the Hyatt Foundation to honour "a living architect whose built work demonstrates a combination of those qualities of talent, vision and commitment, which has produced consistent and significant contributions to humanity and the built...
in 1994.
Career
Christian de Portzamparc was born in Casablanca in 1944, and graduated from the
School of Fine Arts
École Nationale Supérieure des Beaux-Arts
The École Nationale Supérieure des Beaux-arts is the distinguished National School of Fine Arts in Paris, France.The École des Beaux-arts is made up of a vast complex of buildings located at 14 rue Bonaparte, between the quai Malaquais and the rue Bonaparte, in the heart of Saint-Germain-des-Près,...
in Paris in 1970. He created his agency in 1980, supported by Marie-Élisabeth Nicoleau, Étienne Pierrès and Bertrand Beau, and later welcomed Bruno Durbecq, Céline Barda, Léa Xu, André Terzibachian and Clovis Cunha. Based in Paris, the agency has 'satellite' offices near building sites, in addition to offices in New York and Rio de Janeiro, and represents a team of 80 people, drawn from all corners of the globe.
Both an architect and urban planner, Christian de Portzamparc is implicated in the research of form and meaning, as well as being a constructer. His work focuses on research over speculation and concerns the quality of life; aesthetics are conditioned by ethics, and he maintains that we have too often dissociated one from the other. Christian de Portzamparc focuses on all scales of construction, from simple buildings to urban re-think; the town is a founding principal of his work, developing in parallel and in crossover along three major lines: neighbourhood or city pieces, individual buildings and sky-scrapers.
The growth of Christian de Portzamparc's urban projects through competitions and studies led to an evolution of methods, a practical result of theoretical research and analysis. This renewed vision of urban structure, which he named the "open block" in the 80's, can be seen today through projects such as the Quartier Masséna - Seine Rive Gauche (since 1995), an entire neighbourhood of Paris, and at La Lironde (since 1991), in the south of France, both of which illustrate his master-planning and coordination techniques.
Christian de Portzamparc's iconic buildings, urban poles of attraction, create environments wherein the interior and exterior spaces interpenetrate, working as catalysts in cityscape dynamics. This method of functioning came into play in major cultural programmes, often dedicated to dance and music, the most recent examples of which include a 1500 seat philharmonic hall, 300 seat chamber hall and 120 seat electro-acoustic hall in Luxembourg, completed in 2005, plus a unique 1800 seat concert hall that transforms into a 1300 seat opera house, which is under construction, amongst other music halls, as part of the project
Cidade da Música
Cidade da Música
The Cidade da Música is a cultural complex located in Barra da Tijuca in the West Zone of Rio de Janeiro, Brazil, which was originally planned to open in 2004. The formal inauguration is now anticipated for 2012, restyled as Cidade das Artes .The project's R$515 million to the city of Rio caused...
in Rio de Janeiro, Brazil.
The towers created by Christian de Portzamparc have, since the beginning, been a result of his studies of the vertical and sculptural dimension, concentrating on the prismatic form, the most recognised example of which is the LVMH Tower created in 1995 in New York, USA, for which Christian de Portzamparc received many accolades, soon to be accompanied by the residential tower at 400 Park avenue in Manhattan, whose site is due to commence in 2010.
In 1994 Christian de Portzamparc became the first French architect to gain the prestigious "Pritzker Architectural Prize", at the age of 50. In 2006, the
Collège de France
Collège de France
The Collège de France is a higher education and research establishment located in Paris, France, in the 5th arrondissement, or Latin Quarter, across the street from the historical campus of La Sorbonne at the intersection of Rue Saint-Jacques and Rue des Écoles...
created a 53rd chair dedicated 'artistic creation', and called on Christian de Portzamparc to be its first occupant. Today, he continues his research work through projects that are under way around the world, expressing his freshness, pleasure and passion through a perfectionism that has characterised his work from the beginning.
Principal realisations
1971-1974 Château d'eau, Marne la Vallée
1975-1979 Les Hautes-Formes housing project, Paris
1983-1987 Dance school for the Paris Opera, Nanterre
1985-1987 Beaubourg Cafe, Paris
1988-1990 Musée Bourdelle

Musée Bourdelle

The Musée Bourdelle is an art museum located in the 15th arrondissement at 18, rue Antoine Bourdelle, Paris, France. It is open daily, except Mondays. The nearest métro stations are Falguière and Montparnasse – Bienvenüe....


, Paris
1989-1991 Nexus II, Fukuoka, Japan
1984-1995 The City of Music

Cité de la Musique

The Cité de la Musique is a group of institutions dedicated to music and situated in the La Villette quarter, 19th arrondissement, Paris, France. It was designed by the architect Christian de Portzamparc and opened in 1995...


, Paris
1991-1995 Crédit Lyonnais

Crédit Lyonnais

Crédit Lyonnais is a historic French bank. In the early 1990s it was the largest French bank, majority state-owned at that point. Crédit Lyonnais was the subject of poor management during that period which almost led to its bankruptcy in 1993...


tower, Lille
1993-1999 Law courts, Courts of Justice, Grasse
1993-2006 Centre of science, library and museum "Les Champs Libres", Rennes
1994-1999 Extension of the Palais des Congrès Porte Maillot, Paris
1995-1999 LVMH Tower, New York
1997-2003 French Embassy of Germany, Berlin
2001-2004 Headquarters for the press group Le Monde

Le Monde

Le Monde is a French daily evening newspaper owned by La Vie-Le Monde Group and edited in Paris. It is one of two French newspapers of record, and has generally been well respected since its first edition under founder Hubert Beuve-Méry on 19 December 1944...


, Paris
1997-2005 Philharmonie Luxembourg

Philharmonie Luxembourg

The Grande-Duchesse Joséphine-Charlotte Concert Hall is a concert hall located on the Kirchberg plateau in the City of Luxembourg. Opened in 2005, it now plays host to 400 performances each year and is one of the main concert halls in Europe.-Origins:...



2000-2006 "De Citadel", housing and commercial centre Almere
2007-2009 Hergé

Hergé

Georges Prosper Remi , better known by the pen name Hergé, was a Belgian comics writer and artist. His best known and most substantial work is the 23 completed comic books in The Adventures of Tintin series, which he wrote and illustrated from 1929 until his death in 1983, although he was also...


museum, Louvain-la-Neuve

Louvain-la-Neuve

Louvain-la-Neuve is a planned city in the municipality of Ottignies-Louvain-la-Neuve, Belgium, situated 30 km southeast of Brussels, in the French-speaking part of the country...


, Belgium
Principal projects under construction
1991-2009 Development of the Lironde Gardens and construction of two Montpellier blocks
1995-2009 Urban development of the Masséna district, Paris
1998-2009 Croix Rousse Hospital, Lyon
2001-2008 Société Générale tower, La Défense, Paris
2002-2009 "400 Park Avenue South" residential tower in Manhattan, New York
2002-2011 Concert halls, cinema, school of music Cidade da Musica

Cidade da Música

The Cidade da Música is a cultural complex located in Barra da Tijuca in the West Zone of Rio de Janeiro, Brazil, which was originally planned to open in 2004. The formal inauguration is now anticipated for 2012, restyled as Cidade das Artes .The project's R$515 million to the city of Rio caused...


, Rio de Janeiro
2003-2008 Renaissance Paris Wagram Hotel, Paris
2006-2009 Regional hall, Hôtel de Région Rhône Alpes, Lyon
2004-2008 Multiplex Europalaces-Gaumont, Rennes
2004-2008 Residential development "La prairie au Duc", Nantes
2004-2008 Bastide residential development in Bordeaux
2011-2015 Amphitheater District in Metz

Metz

Metz is a city in the northeast of France located at the confluence of the Moselle and the Seille rivers.Metz is the capital of the Lorraine region and prefecture of the Moselle department. Located near the tripoint along the junction of France, Germany, and Luxembourg, Metz forms a central place...



Awards and distinctions
1988 - Equerre d'Argent – awarded by the press group Le Moniteur for the Dance School of the Paris Opera in Nanterre
1989 - Commander of the Order of Arts and Letters

Ordre des Arts et des Lettres

The Ordre des Arts et des Lettres is an Order of France, established on 2 May 1957 by the Minister of Culture, and confirmed as part of the Ordre national du Mérite by President Charles de Gaulle in 1963...


– awarded by the French Ministry of Culture
1990 - The Great Prize of Architecture of the City of Paris – awarded by the Mayor of Paris
1992 - Médaille d'Argent – awarded by the French Academy of Architecture
1993 - Great National Prize of Architecture – awarded by the French Ministry of Urbanism and Transport
1994 - Pritzker Prize

Pritzker Prize

The Pritzker Architecture Prize is awarded annually by the Hyatt Foundation to honour "a living architect whose built work demonstrates a combination of those qualities of talent, vision and commitment, which has produced consistent and significant contributions to humanity and the built...


of Architecture – awarded by the Hyatt Foundation
1995 - Equerre d'Argent awarded by the French press group Le Moniteur for the City of Music – Conservatory of Music and Dance in Paris
2001 - Business Week and Architectural Record Award for the LVMH tower in New York (USA)
2004 - The Great Prize of Urbanism – awarded by an international jury who 'wanted to congratulate a work with achievements of high quality combined with city vision and philosophy articulating theoretical concepts and concrete realisations, while developing an optimistic vision for the future through his works and writings'
2005 - MIPIM Award for the remodelling of the building for the press group Le Monde in Paris
Publications and biographies
Exhibition catalogue « Rêver la ville », Sophie Trelcat, Paris, Le Moniteur, 2007
Architecture : figures du monde, figures du temps, Leçons inaugurales au Collège de France, Collège de France/Fayard, Paris, 2006
Voir écrire, Christian de Portzamparc & Philippe Sollers

Philippe Sollers

Philippe Sollers is a French writer and critic. In 1960 he founded the avant garde journal Tel Quel , published by Seuil, which ran until 1982...


, Paris, Folio Gallimard, 2005
Christian de Portzamparc by Gilles de Bure Edited by Terrail, 2003
Christian de Portzamparc, entretien avec Y. Futagawa, G.A. Document extra 04 / in Studio Talk interview with 15 architects (Tokyo, A.D.A edita,2002
Christian de Portzamparc by Riccardo Florio, Edited by Officina Edizioni, 1997
Christian de Portzamparc G.A.Document, 1996
Christian de Portzamparc Disegno e forma dell'architettura per la città, R.Florio (Roma, Officina Edizioni, 1996)
Généalogie des formes by Christian de Portzamparc, Edited by Dis Voir, about free drawings and paintings,1996
Christian de Portzamparc Edited by Arc en Rêve/ Birkhauser, 1996
Scènes d'Atelier Edited by Centre Georges Pompidou, 1996
Christian de Portzamparc by Jean Pierre Le Dantec Edited by Le Regard, 1996
Christian de Portzamparc Urban situations Edited by Gallery MA - Tokyo - Japan 1991
Christian de Portzamparc Published by Le Moniteur, 1984–1987
Books on projects
La philharmonie de Luxembourg, entretien avec C. de Portzamparc, M. Brausch. (Luxembourg, Fonds d'Urbanisation et d'Aménagement du Plateau de Kirchberg, 2003)
La tour LVMH, entretien avec C. de Portzamparc «Portzamparc ou l'esprit des lieux». «Christian de Portzamparc The LVMH Tower», J. Giovannini, F.Rambert, (Connaissance des Arts hors série, Paris, 1999)
De la danse - école du ballet de L'Opéra de Paris, C. de Portzamparc (Paris, Les éditions du Demi-Cercle, 1990)
La cité de la musique, M. Bleuse, P. Boulez, S. Goldberg, J-C. Casadesus, O. Messiaen, P. Sollers, H. Tonka,C. de Portzamparc (Paris, Champ Vallon, 1986)
Rue des Hautes Formes, C. de Portzamparc (Paris, Régie immobilière de la ville de Paris, RIVP, 1979)
External links