 Chom Phon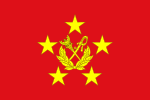 Chom Phon
or
Field Marshal of Thailand
is a military rank of
Thailand
Thailand
Thailand , officially the Kingdom of Thailand , formerly known as Siam , is a country located at the centre of the Indochina peninsula and Southeast Asia. It is bordered to the north by Burma and Laos, to the east by Laos and Cambodia, to the south by the Gulf of Thailand and Malaysia, and to the...
in the
Royal Thai Army
, considered the equivalent to a
Field Marshal
Field Marshal
Field Marshal is a military rank. Traditionally, it is the highest military rank in an army.-Etymology:The origin of the rank of field marshal dates to the early Middle Ages, originally meaning the keeper of the king's horses , from the time of the early Frankish kings.-Usage and hierarchical...
or
General of the Army
General of the Army
General of the Army is a military rank used in some countries to denote a senior military leader, usually a General in command of a nation's Army. It may also be the title given to a General who commands an Army in the field....
(although the former is more widely used). Today it is ceremonially held by members of the Thai Royal family and exists only on paper in the actual Thai military. The
Royal Thai Navy
Royal Thai Navy
The Royal Thai Navy is the navy of Thailand and part of the Royal Thai Armed Forces, it was established in the late 19th century. Admiral Prince Abhakara Kiartiwongse is "The Father of Royal Thai Navy". Similar to the organizational structure of the United States, the Royal Thai Navy includes the...
equivalent is known as
Chom Phon Ruea
and
Chom Phon Akat
for the
Royal Thai Air Force
Royal Thai Air Force
The Royal Thai Air Force or RTAF is the air force of the Kingdom of Thailand. Since its establishment in 1913, as one of the earliest air forces of Asia, the Royal Thai Air Force had engaged in many major and minor battles. During the Vietnam war era, the air force has been developed with USAF-aid...
.
The King of Thailand as Head of the Armed Forces is automatically made a Chom Phon upon accession, The rank was created in 1888, together with all
other ranks
Military ranks of the Thai armed forces
-Royal Thai Army:The Royal Thai Army is the land based part of the Thai military.-Officers:-Other Ranks:Private 1st Class is a rank assigned to conscripts after they have finished specialist training...
by King
Chulalongkorn
Chulalongkorn
Phra Bat Somdet Phra Poramintharamaha Chulalongkorn Phra Chunla Chom Klao Chao Yu Hua , or Rama V was the fifth monarch of Siam under the House of Chakri. He was known to the Siamese of his time as Phra Phuttha Chao Luang . He is considered one of the greatest kings of Siam...
, who wanted to modernize his Armed Forces through western lines. Since then all monarchs have held this title.
Apart from these many others both inside and outside the Royal Family has been awarded this rank.
HRH Prince Bhanurangsi Savangwongse

Bhanurangsi Savangwongse

Field Marshal Prince Bhanurangsi Savangwongse, The Prince Banubandhu Vongsevoradej was a son of HM King Mongkut of Siam and HM Queen Debsirindra....



Chao Phraya Bordindeachanuchit (Mom Rajawong Arruin Chatkun)
Chao Phraya Surasakmontri (Cherm Saeng-Chuto)
HRH Prince Chirapravati Voradej, Prince of Nakhon Chaisi
HRH Prince Chakrabongse Bhuvanath

Chakrabongse Bhuvanath

Field Marshal Prince Chakrabongse Bhuvanadh, Prince of Phitsanulok, , was the fortieth child of King Chulalongkorn and the fourth child of Queen Sri Bajarindra....


, Prince of Phitsanulok
HRH Prince Paripatra Sukhumbhand, Prince of Nakhon Sawan (also attained the rank of Admiral of the Fleet or Chom Pon Rau)
Plaek Pibulsonggram

Plaek Pibulsonggram

Field Marshal Plaek Pibunsongkhram , often known as Phibun Songkhram or simply Phibun in English, was Prime Minister and virtual military dictator of Thailand from 1938 to 1944 and 1948 to 1957.- Early years :...


(Sometimes known as "Chom Pon Por")
Phin Choonhavan

Phin Choonhavan

Field Marshal Phin Choonhavan was a Thai military leader. Phin was a leader of several coups against the government, most notably the 1947 coup...



Sarit Dhanarajata

Sarit Dhanarajata

Field Marshal Sarit Thanarat , was a Thai career soldier who staged a coup in 1957, thereafter serving as Thailand's Prime Minister until his death in 1963. He was born in Bangkok, but grew up in his mother's home town in Lao-speaking northeastern Thailand and considered himself a northeasterner...



HM Queen Sirikit

Sirikit

Somdet Phra Nang Chao Sirikit Phra Borommarachininat , is the queen consort of Bhumibol Adulyadej, King of Thailand. She is the second Queen Regent of Thailand...


(consort of Bhumibol Aduyadej)
Thanom Kittikachorn

Thanom Kittikachorn

Field Marshal Thanom Kittikachorn was a military dictator of Thailand. A staunch anti-Communist, Thanom oversaw a decade of military rule in Thailand from 1963 to 1973, until public protests which exploded into violence forced him to step down...



Praphas Charusathien
Kriengkai Attanand (awarded posthumously)
See also
Military ranks of the Thai armed forces

Military ranks of the Thai armed forces

-Royal Thai Army:The Royal Thai Army is the land based part of the Thai military.-Officers:-Other Ranks:Private 1st Class is a rank assigned to conscripts after they have finished specialist training...



Field Marshal

Field Marshal

Field Marshal is a military rank. Traditionally, it is the highest military rank in an army.-Etymology:The origin of the rank of field marshal dates to the early Middle Ages, originally meaning the keeper of the king's horses , from the time of the early Frankish kings.-Usage and hierarchical...



Chom Phon Ruea- Navy
Chom Phon Akat- Air Force