 Chodkiewicz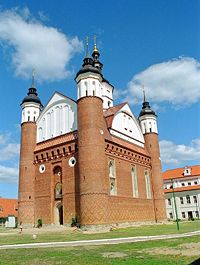 The
Chodkiewicz
family was one of the most influential noble families of
Ruthenian
Ruthenians
The name Ruthenian |Rus']]) is a culturally loaded term and has different meanings according to the context in which it is used. Initially, it was the ethnonym used for the East Slavic peoples who lived in Rus'. Later it was used predominantly for Ukrainians...
descent in the
Grand Duchy of Lithuania
Grand Duchy of Lithuania
The Grand Duchy of Lithuania was a European state from the 12th /13th century until 1569 and then as a constituent part of Polish-Lithuanian Commonwealth until 1791 when Constitution of May 3, 1791 abolished it in favor of unitary state. It was founded by the Lithuanians, one of the polytheistic...
in the 16th-17th centuries.
Chodko Jurewicz
Chodko Jurewicz
Chodko Jurewicz was a noble from the Grand Duchy of Lithuania and is considered to be the founder of the Chodkiewicz family. Chodko was a historical person, but his obscure origin and biography have long been surrounded by legends and disputed by scholars...
, chamberlain to Grand Duke
Vytenis
Vytenis
Vytenis was the Grand Duke of Lithuania from c. 1295 to c. 1316. He became the first of the Gediminid dynasty to rule for a considerable amount of time. In the early 14th century his reputation outshone that of Gediminas, who is regarded by modern historians as one of the greatest Lithuanian rulers...
was probably ancestor of whole clan and gaved it name
Chodkiewicz
, meaning "son of Chodzko". Surnames were not used in that time, but apparently later in history, the name
Chodzko
became a surname after Christianization of Chodzko Juriewicz, father of Iwan (Jan) Chodkiewicz. They bore Chodkiewicz coat of arms. In the year 1572 Jan Hieronimowicz Chodkiewicz abandoned
calvinism
Calvinism
Calvinism is a Protestant theological system and an approach to the Christian life...
for the Roman catholicism with his two sons, what made them first
polonized
Polonization
Polonization was the acquisition or imposition of elements of Polish culture, in particular, Polish language, as experienced in some historic periods by non-Polish populations of territories controlled or substantially influenced by Poland...
generation of this once Ruthenian family. Emperor
Charles V
Charles V, Holy Roman Emperor
Charles V was ruler of the Holy Roman Empire from 1519 and, as Charles I, of the Spanish Empire from 1516 until his voluntary retirement and abdication in favor of his younger brother Ferdinand I and his son Philip II in 1556.As...
granted the title of Count of the Roman Empire to the whole family.
Notable family members
External links