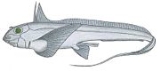 Chimaeridae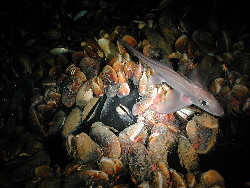 The
Chimaeridae
, or
shortnose chimaeras
are a
family
Family (biology)
In biological classification, family is* a taxonomic rank. Other well-known ranks are life, domain, kingdom, phylum, class, order, genus, and species, with family fitting between order and genus. As for the other well-known ranks, there is the option of an immediately lower rank, indicated by the...
of cartilaginous fish.
They resemble other chimaeras in general form and habits, but have a short, rounded, snout, without the modifications found in related families. Many species have a long tapering tail, given them an alternative name of
ratfish
. Shortnose chimaeras have a venomous spine on their backs, which is sufficiently dangerous to injure humans.
They are found in temperate and tropical marine waters worldwide. Most species are restricted to depths below 200 metres (656.2 ft), but a few, notably the
spotted ratfish
Spotted ratfish
The spotted ratfish, Hydrolagus colliei, is a chimaera found in the north-eastern Pacific Ocean. Often seen by divers at night in the Pacific Northwest, this harmless shark relative gets its characteristic name from a pointed rat-like tail. The ratfish lays leathery egg cases on the bottom of muddy...
, can locally be found at relatively shallow depths. They range from 38 centimetres (15 in) to 150 centimetres (4.9 ft) in maximum total length, depending on species.
Species
There are 36 species, grouped into two genera:
Family
Chimaeridae
Genus Chimaera

Chimaera (genus)

Chimaera is the type genus of the cartilaginous fish family Chimaeridae.It contains the following thirteen species with more likely to be discovered:** Chimaera argiloba Last, W. T...


Linnaeus, 1758

Chimaera argiloba Last, W. T. White & Pogonoski, 2008 (Whitefin chimaera)
Chimaera bahamaensis Kemper, Ebert, Didier & Compagno, 2010 (Bahamas ghost shark)
Chimaera cubana Howell-Rivero

Luis Howell-Rivero

Luis Howell-Rivero was a Cuban biologist and anthropologist. In the 1920's and 30's he identified numerous new species of animals, especially fish, in Cuba and the rest of the Caribbean. One example is Squalus cubensis, the Cuban dogfish...


, 1936
Chimaera fulva Didier, Last & W. T. White, 2008 (Southern Chimaera)
Chimaera jordani S. Tanaka (I)

Shigeho Tanaka

was a Japanese ichthyologist and professor of zoology at the Imperial University of Tokyo. He published numerous works on fishes and sharks and co-authored a book on Japanese fish with famous American scientist David Starr Jordan.Publications:...


, 1905 (Jordan's Chimaera)
Chimaera lignaria Didier, 2002 (Carpenter's chimaera)
Chimaera macrospina Didier, Last & W. T. White, 2008 (Longspine Chimaera)
Chimaera monstrosa

Chimaera monstrosa

Chimaera monstrosa, also known as the rabbit fish or rat fish, is a species of fish in the Chimaeridae family.-Anatomy and appearance:...


Linnaeus

Carolus Linnaeus

Carl Linnaeus , also known after his ennoblement as , was a Swedish botanist, physician, and zoologist, who laid the foundations for the modern scheme of binomial nomenclature. He is known as the father of modern taxonomy, and is also considered one of the fathers of modern ecology...


, 1758 (Rabbit fish)
Chimaera notafricana Kemper, Ebert, Compagno & Didier, 2010 Cape Chimaera
Chimaera obscura Didier, Last & W. T. White, 2008 (Shortspine Chimaera)
Chimaera owstoni S. Tanaka (I)

Shigeho Tanaka

was a Japanese ichthyologist and professor of zoology at the Imperial University of Tokyo. He published numerous works on fishes and sharks and co-authored a book on Japanese fish with famous American scientist David Starr Jordan.Publications:...


, 1905 (Owston's Chimaera)
Chimaera panthera Didier, 1998 (Leopard Chimaera)
Chimaera phantasma D. S. Jordan

David Starr Jordan

David Starr Jordan, Ph.D., LL.D. was a leading eugenicist, ichthyologist, educator and peace activist. He was president of Indiana University and Stanford University.-Early life and education:...


& Snyder

John Otterbein Snyder

John Otterbein Snyder was an American zoologist.As a student he met David Starr Jordan who inspired him to enter zoology. He eventually became a zoology instructor at Stanford University and served there from 1899 until 1943. He went on several major collecting expeditions aboard the USS Albatross...


, 1900 (Silver chimaera)

Genus Hydrolagus

Hydrolagus

Hydrolagus is a genus of fish in the Chimaeridae family.It contains the following species:* Hydrolagus affinis * Hydrolagus africanus...


Gill

Theodore Gill

Theodore Nicholas Gill was an American ichthyologist, mammalogist, malacologist and librarian.Born and educated in New York City under private tutors, Gill early showed interest in natural history. He was associated with J...


, 1863

Hydrolagus affinis (Brito Capello, 1868) (Smalleyed rabbitfish)
Hydrolagus africanus (Gilchrist, 1922) (African chimaera)
Hydrolagus alberti Bigelow

Henry Bryant Bigelow

Henry Bryant Bigelow was an American oceanographer and marine biologist.After graduating from Harvard in 1901, he began working with famed ichthyologist Alexander Agassiz. Bigelow accompanied Agassiz on several major marine science expeditions including one aboard the Albatross in 1907...


& Schroeder

William Charles Schroeder

William Charles Schroeder was an American ichthyologist. He was born on Staten Island, New York. He, along with his lifelong colleague Henry Bryant Bigelow, made substantial contributions to the knowledge of the fish fauna of the western North Atlantic...


, 1951
Hydrolagus alphus Quaranta, Didier, Long & Ebert, 2006
Hydrolagus barbouri (Garman, 1908)
Hydrolagus bemisi Didier, 2002 (Pale ghost shark)
Hydrolagus colliei (Lay

George Tradescant Lay

George Tradescant Lay was a British naturalist, missionary and diplomat.Lay was a naturalist on the English sailing ship HMS Blossom under the command of Captain Frederick William Beechey from 1825 to 1828, where he collected specimens in the Pacific including California, Alaska, Kamchatka, China,...


& E. T. Bennett

Edward Turner Bennett

Edward Turner Bennett was an English zoologist and writer. He was the elder brother of the botanist John Joseph Bennett. Bennett was born at Hackney and practiced as a surgeon, but his chief pursuit was always zoology...


, 1839) (Spotted ratfish)
Hydrolagus deani (H. M. Smith

Hugh McCormick Smith

Hugh McCormick Smith was an American ichthyologist and administrator in the Bureau of Fisheries.-Biography:...


& Radcliffe

Lewis Radcliffe

Lewis Radcliffe was a naturalist, malacologist, and ichthyologist. He was Deputy Commissioner of the United States Bureau of Fisheries until 1932 and was the assistant naturalist under Hugh McCormick Smith for the 1907-1910 Philippines Expedition. During his life, he described numerous new species...


, 1912) (Philippine chimaera)
Hydrolagus eidolon (D. S. Jordan

David Starr Jordan

David Starr Jordan, Ph.D., LL.D. was a leading eugenicist, ichthyologist, educator and peace activist. He was president of Indiana University and Stanford University.-Early life and education:...


& Hubbs

Carl Leavitt Hubbs

-Youth:He was born in Williams, Arizona. He was the son of Charles Leavitt and Elizabeth Hubbs. His father had a wide variety of jobs . The family moved several times before settling in San Diego where he got his first taste of natural history...


, 1925)
Hydrolagus homonycteris Didier, 2008 (Black Ghostshark)
Hydrolagus lemures (Whitley

Gilbert Percy Whitley

Gilbert Percy Whitley was a British-born Australian ichthyologist and malacologist who was Curator of Fishes at the Australian Museum in Sydney for about 40 years. He was born at Swaythling, Southampton, England, and was educated at King Edward VI School, Southampton and Osborne House...


, 1939) (Blackfin ghostshark)
Hydrolagus lusitanicus Moura, Figueiredo, Bordalo-Machado, Almeida & Gordo, 2005
Hydrolagus macrophthalmus de Buen

Don Fernando de Buen y Lozano

Don Fernando de Buen y Lozano was a Spanish ichthyologist and oceanographer. He lived in Mexico, Uruguay, and Chile. In Uruguay, he was the director of the Department of Science at the Oceanography and Fisheries Service as well as Professor of Hydrobiology and Protozoology in the Faculty of Arts...


, 1959
Hydrolagus marmoratus Didier, 2008 Marbled Ghostshark
Hydrolagus matallanasi

Hydrolagus matallanasi

Hydrolagus matallanasi is a species of very rare deep-water chimaera that lives in the ocean at depths of up to 600 m. The species is 150 million years old. It was discovered in 2001 by a team of Brazilian scientists....


Soto & Vooren, 2004 (Striped rabbitfish)
Hydrolagus mccoskeri Barnett, Didier, Long & Ebert, 2006 (Galápagos Ghostshark)
Hydrolagus melanophasma K. C. James, Ebert, Long & Didier, 2009 (Eastern Pacific Black Ghostshark)
Hydrolagus mirabilis (Collett

Robert Collett

Robert Collett was a Norwegian zoologist. He worked with vertebrates, primarily fishes. From 1864 he was curator at the Zoological Museum in Oslo. In 1882 he became its director and from 1884 was a professor there...


, 1904) (Large-eyed rabbitfish)
Hydrolagus mitsukurii

Hydrolagus mitsukurii

Hydrolagus mitsukurii is a species of fish in the Chimaeridae family. It is found in China, Japan, South Korea, the Philippines, Taiwan, and possibly Indonesia. Its natural habitat is open seas. It is threatened by habitat loss.-Source:...


(D. S. Jordan

David Starr Jordan

David Starr Jordan, Ph.D., LL.D. was a leading eugenicist, ichthyologist, educator and peace activist. He was president of Indiana University and Stanford University.-Early life and education:...


& Snyder

John Otterbein Snyder

John Otterbein Snyder was an American zoologist.As a student he met David Starr Jordan who inspired him to enter zoology. He eventually became a zoology instructor at Stanford University and served there from 1899 until 1943. He went on several major collecting expeditions aboard the USS Albatross...


, 1904) (Spookfish)
Hydrolagus novaezealandiae (Fowler

Henry Weed Fowler

Henry Weed Fowler was an American zoologist born in Holmesburg, Pennsylvania.He studied at Stanford University under David Starr Jordan...


, 1911) (Dark ghostshark)
Hydrolagus ogilbyi (Waite

Edgar Ravenswood Waite

Edgar Ravenswood Waite was a British/Australian ichthyologist, ornithologist and zoologist.Waite was born in Leeds, Yorkshire, England, the second son of John Waite, a bank clerk,...


, 1898)
Hydrolagus pallidus Hardy & Stehmann, 1990
Hydrolagus purpurescens (Gilbert

Charles Henry Gilbert

Charles Henry Gilbert was a pioneer ichthyologist and fishery biologist of particular significance to natural history of the western United States. He collected and studied fishes from Central America north to Alaska and described many new species...


, 1905) (Purple chimaera)
Hydrolagus trolli Didier & Séret, 2002 (Pointy-nosed blue chimaera)
Hydrolagus waitei Fowler

Henry Weed Fowler

Henry Weed Fowler was an American zoologist born in Holmesburg, Pennsylvania.He studied at Stanford University under David Starr Jordan...


, 1907
Hydrolagus sp. D/G Giant Black Chimaera
Hydrolagus sp. F Peruvian Ratfish