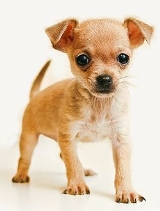 Chihuahua (dog)
The is the smallest breed of
dog
Dog
The domestic dog is a domesticated form of the gray wolf, a member of the Canidae family of the order Carnivora. The term is used for both feral and pet varieties. The dog may have been the first animal to be domesticated, and has been the most widely kept working, hunting, and companion animal in...
and is so named for the state of Chihuahua in
Mexico
Mexico
The United Mexican States , commonly known as Mexico , is a federal constitutional republic in North America. It is bordered on the north by the United States; on the south and west by the Pacific Ocean; on the southeast by Guatemala, Belize, and the Caribbean Sea; and on the east by the Gulf of...
. Chihuahuas come in a wide variety of sizes, head shapes, colors and coat lengths.
The Chihuahua's history is puzzling and there are many theories surrounding the origin of the breed. Both folklore and archeological finds show that the breed originated in Mexico. The most common theory and most likely is that Chihuahuas are descended from the
Techichi
, a companion dog favored by the
Toltec
Toltec
The Toltec culture is an archaeological Mesoamerican culture that dominated a state centered in Tula, Hidalgo in the early post-classic period of Mesoamerican chronology...
civilization in Mexico; however, no records of the Techichi are available prior to the 9th century.