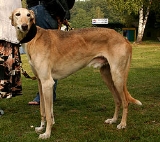 Chart Polski
The
Polish Greyhound
is a
Polish
Poland
Poland , officially the Republic of Poland , is a country in Central Europe bordered by Germany to the west; the Czech Republic and Slovakia to the south; Ukraine, Belarus and Lithuania to the east; and the Baltic Sea and Kaliningrad Oblast, a Russian exclave, to the north...
sighthound
Sighthound
Sighthounds, also called gazehounds, are hounds that primarily hunt by speed and sight, instead of by scent and endurance as scent hounds do.-Appearance:...
breed. It is known as the Polish Greyhound, although it is not a direct relative of the
Greyhound
Greyhound
The Greyhound is a breed of sighthound that has been primarily bred for coursing game and racing, and the breed has also recently seen a resurgence in its popularity as a pedigree show dog and family pet. It is a gentle and intelligent breed...
dog.
Appearance
Polish Greyhounds have a short, smooth
fur
Fur
Fur is a synonym for hair, used more in reference to non-human animals, usually mammals; particularly those with extensives body hair coverage. The term is sometimes used to refer to the body hair of an animal as a complete coat, also known as the "pelage". Fur is also used to refer to animal...
that comes in many colors. The coat is somewhat heavier than a Greyhound's. They have an undercoat that gets thicker in the winter. Polish Greyhounds have a longer brush on the tail and have culottes at the rear of the thighs. The average Polish Greyhound weighs about 65–95 pounds, and ranges from 27–32 inches tall.
The Chart Polski has a smooth double
coat
Coat (animal)
Coat, or the nature and quality of a show mammal's pelage, is important to the animal fancy in the judging of the animal, particularly at conformation dog shows, cat shows and horse shows...
, regardless of season, which is harsh to the touch while offering excellent insulation.This Regal canine, is not actually a Greyhound, rather a different breed on its own. While it may seem similar in looks, the Chart Polski standard deems that this dog is much stronger, and less slight, or thin. This is a persistent hunter, with a long muscular neck, unlike the greyhound, and the head is carried high. Large almond eyes are set in a slant, and the points of the hip bones are wide apart. The hind legs move closer together when the dog is moving at a short trot: this is called "lacing".
Temperament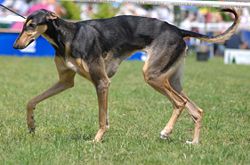 Polish Greyhounds have some similarities to other
sighthound
Sighthound
Sighthounds, also called gazehounds, are hounds that primarily hunt by speed and sight, instead of by scent and endurance as scent hounds do.-Appearance:...
s, in that they are not overly active dogs, unless they have a purpose to be active. Such as when they are running and chasing prey.
In other ways they are very unlike the typical sighthound. They can be dog aggressive, due to their being bred to hunt wolves and can be very territorial. They have a strong
pack
Pack (canine)
Pack is a social group of conspecific canids. Not all species of canids - notably the red fox - form packs. Pack size and social behaviour within packs varies across species.-Species which exhibit pack behavior:...
instinct and will not always accept new dogs into their home.
They can be very good guard dogs in the home and they create strong bonds with their owners; in some, this instinct is so strong, they will not accept strangers coming into the home. They enjoy a good exercise regimen, walking them daily is a very good way to do this. They love to run, of course, and if they can no longer be used for actual hunting, (many locations prohibit this) then a decent facsimile would be participating in the performance sports like
coursing
Coursing
Coursing is the pursuit of game or other animals by dogs—chiefly greyhounds and other sighthounds—catching their prey by speed, running by sight and not by scent. Coursing was a common hunting technique, practised by the nobility, the landed and wealthy, and commoners with sighthounds and lurchers...
and racing.
Between running activities, they like nothing better than lounging on the couch or bed. They are obedient and easy to train, although they can be stubborn and willfull. This is not the best breed for the novice dog owner. They need early socialization and firm, fair guidance from their owners
Health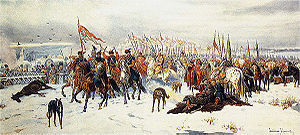 At this point they are not known to have many serious
genetic
Genetics
Genetics , a discipline of biology, is the science of genes, heredity, and variation in living organisms....
disorders. Cancers have been reported, also some heart conditions such as Cardiomyopathy. They tend to live to 10–12 years old. A few have lived to be 15.
History
The Polish Greyhounds originated in Poland, most likely from the Asian sighthound, a
Saluki
Saluki
The Saluki, also known as the Royal Dog of Egypt and Persian Greyhound is one of the oldest known breeds of domesticated dog. From the period of the Middle Kingdom onwards, Saluki-like animals appear on the ancient Egyptian tombs of 2134 BC. They have connections both to the Bible and Imperial...
-type dog.
They were not bred from the English Greyhound.
External links