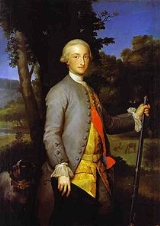 Charles IV of Spain
Charles IV
was
King of Spain
from 14 December 1788 until his abdication on 19 March 1808.
Charles was the second son of
Charles III
Charles III of Spain
Charles III was the King of Spain and the Spanish Indies from 1759 to 1788. He was the eldest son of Philip V of Spain and his second wife, the Princess Elisabeth Farnese...
and his wife
Maria Amalia of Saxony
Maria Amalia of Saxony
Maria Amalia of Saxony was a German princess from the House of Wettin and was the wife of Charles III of Spain; she was the Queen consort of Naples and Sicily from 1738 till 1759 and then Queen consort of Spain from 1759 until her death in 1760...
. He was born at
Naples
Naples
Naples is a city in Southern Italy, situated on the country's west coast by the Gulf of Naples. Lying between two notable volcanic regions, Mount Vesuvius and the Phlegraean Fields, it is the capital of the region of Campania and of the province of Naples...
(11 of November, 1748), while his father was king of the Two Sicilies. His elder brother Don Felipe was passed over for the two thrones as
mentally retarded
Mental retardation
Mental retardation is a generalized disorder appearing before adulthood, characterized by significantly impaired cognitive functioning and deficits in two or more adaptive behaviors...
and
epileptic
Epilepsy
Epilepsy is a common chronic neurological disorder characterized by seizures. These seizures are transient signs and/or symptoms of abnormal, excessive or hypersynchronous neuronal activity in the brain.About 50 million people worldwide have epilepsy, and nearly two out of every three new cases...
. In Naples and Sicily he was styled as the
Prince of Taranto
.
Charles had inherited a great frame and immense physical strength from the Saxon line of his mother, granddaughter of August the Strong.