 Chaplain of His Holiness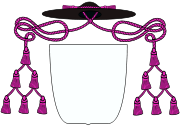 A
Chaplain of His Holiness
is a priest to whom the
Pope
Pope
The Pope is the Bishop of Rome, a position that makes him the leader of the worldwide Catholic Church . In the Catholic Church, the Pope is regarded as the successor of Saint Peter, the Apostle...
has granted this title. They are addressed as
Monsignor
Monsignor
Monsignor, pl. monsignori, is the form of address for those members of the clergy of the Catholic Church holding certain ecclesiastical honorific titles. Monsignor is the apocopic form of the Italian monsignore, from the French mon seigneur, meaning "my lord"...
and have certain privileges, such as regards ecclesiastical dress.
In accordance with the
motu proprio
Motu proprio
A motu proprio is a document issued by the Pope on his own initiative and personally signed by him....
Pontificalis Domus
of 28 March 1968, those priests who formerly were called Supernumerary Privy Chamberlains continued to be part of the Papal Household, under the new name of Chaplains of His Holiness. Lower ranks of Privy Chamberlains (Honorary Chamberlains of Purple Robes, Chamberlains
extra Urbem
, Honorary Privy Chaplains, and Honorary Chaplains
extra Urbem
) were abolished.
Their origin dates back to the time of
Pope Urban VIII
Pope Urban VIII
Pope Urban VIII , born Maffeo Barberini, was pope from 1623 to 1644. He was the last pope to expand the papal territory by force of arms, and was a prominent patron of the arts and reformer of Church missions...
. They provide unpaid service since the pontificate of
Pope Pius VI
Pope Pius VI
Pope Pius VI , born Count Giovanni Angelo Braschi, was Pope from 1775 to 1799.-Early years:Braschi was born in Cesena...
. The document of their nomination, generally granted at the request of their bishop, is drawn up by the Secretariat of State.
The members of the
chapters
Chapter (religion)
Chapter designates certain corporate ecclesiastical bodies in the Roman Catholic, Anglican and Nordic Lutheran churches....
of one church in Rome and the cathedral in Lodi hold this title
durante munere
(i.e., while holding that office).
The title no longer expires but requires renewal on the death of the Pope who granted it.