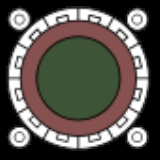 Chalco
Aluminum Corporation of China Limited
, also known as
Chalco
, is a
multinational
Multinational corporation
A multi national corporation or enterprise , is a corporation or an enterprise that manages production or delivers services in more than one country. It can also be referred to as an international corporation...
aluminum company headquartered in
Beijing
Beijing
Beijing , also known as Peking , is the capital of the People's Republic of China and one of the most populous cities in the world, with a population of 19,612,368 as of 2010. The city is the country's political, cultural, and educational center, and home to the headquarters for most of China's...
,
People's Republic of China
People's Republic of China
China , officially the People's Republic of China , is the most populous country in the world, with over 1.3 billion citizens. Located in East Asia, the country covers approximately 9.6 million square kilometres...
. It is the world's second-largest alumina producer (and the only producer in China) and third-largest primary aluminum producer (and the largest producer in China).
Chinalco is principally engaged in the extraction of aluminum oxide, electrolyzation of virgin aluminum and the processing and production of aluminum.
Its primary listing is on the
Shanghai Stock Exchange
Shanghai Stock Exchange
The Shanghai Stock Exchange , abbreviated as 上证所/上證所 or 上交所, is a stock exchange that is based in the city of Shanghai, China. It is one of the two stock exchanges operating independently in the People's Republic of China, the other is the Shenzhen Stock Exchange...
and it is a constituent of the SSE 50 index. It has secondary listings on the
Hong Kong Stock Exchange
Hong Kong Stock Exchange
The Hong Kong Stock Exchange is a stock exchange located in Hong Kong. It is Asia's third largest stock exchange in terms of market capitalization behind the Tokyo Stock Exchange and the Shanghai Stock Exchange and fifth largest in the world...
and the
New York Stock Exchange
New York Stock Exchange
The New York Stock Exchange is a stock exchange located at 11 Wall Street in Lower Manhattan, New York City, USA. It is by far the world's largest stock exchange by market capitalization of its listed companies at 13.39 trillion as of Dec 2010...
.
History
Aluminum Corporation of China (CHINALCO) is a state-backed holding company established to be the primary aluminium producer in the People's Republic of China in 2001. It is the parent company of
Aluminum Corporation of China Limited (CHALCO)
which is listed on the New York, Hong Kong and Shanghai stock exchanges.
With effect from 10 June 2008, Chalco was added to the Hang Seng Index Constituent Stock (blue chip).
Chinalco is investing $3 billion to begin open-cast mining operations, within three to four years, in
Morococha District
Morococha District
Morococha District is one of ten districts of the province Yauli in Peru.-References:...
,
Peru
Peru
Peru , officially the Republic of Peru , is a country in western South America. It is bordered on the north by Ecuador and Colombia, on the east by Brazil, on the southeast by Bolivia, on the south by Chile, and on the west by the Pacific Ocean....
. The company plans to extract copper ore from
Mount Toromocho
Mount Toromocho
Mount Toromocho , meaning "a bull without horns" in Spanish, is a mountain in the Junín Region, Peru that sits next to the long established mining camp of Morococha and hosts a large polymetallic metal deposit...
.
Chinalco holds a 9% stake in the Anglo-Australian mining company
Rio Tinto
Rio Tinto Group
The Rio Tinto Group is a diversified, British-Australian, multinational mining and resources group with headquarters in London and Melbourne. The company was founded in 1873, when a multinational consortium of investors purchased a mine complex on the Rio Tinto river, in Huelva, Spain from the...
. Rio Tinto controls large
Iron ore
reserves in
Australia
Australia
Australia , officially the Commonwealth of Australia, is a country in the Southern Hemisphere comprising the mainland of the Australian continent, the island of Tasmania, and numerous smaller islands in the Indian and Pacific Oceans. It is the world's sixth-largest country by total area...
. On June 5, Rio Tinto broke a deal for Chinalco to purchase a larger stake in the company, with support by rival Anglo-Australian mining company
BHP Billiton
BHP Billiton
BHP Billiton is a global mining, oil and gas company headquartered in Melbourne, Australia and with a major management office in London, United Kingdom...
. Rio Tinto is expected to pay a US$195 million breaking fee according to the contract signed earlier by the two parties.
In 2010, Chinalco reported a net profit of ¥778.01 million, a dramatic rise when compared with the company's ¥4.62 billion profit losses from the previous year. The company credits increased prices and effective cost control strategies with the financial turnaround.
During July of 2011, Chinalco signed a long-term agreement with Mongolian miner Tavan Tolgoi to import more than 15 million tons of coking coal annually in order to meet increased domestic demand.
Operations
Chinalco operates its business through three segments: aluminum oxide segment, producing and selling aluminum oxide, aluminum hydroxide and gallium; virgin aluminum, providing virgin aluminum, carbon element products and aluminum alloys, and aluminum processing segment, offering casting products, slab band products, foils, squeezing products, forging products, powder products and die-casting products.
Chinalco's
gallium
Gallium
Gallium is a chemical element that has the symbol Ga and atomic number 31. Elemental gallium does not occur in nature, but as the gallium salt in trace amounts in bauxite and zinc ores. A soft silvery metallic poor metal, elemental gallium is a brittle solid at low temperatures. As it liquefies...
products include gallium metal and gallium oxide.
Chinalco also provides remelted aluminum ingots.
Chinalco products are applied in
construction
Construction
In the fields of architecture and civil engineering, construction is a process that consists of the building or assembling of infrastructure. Far from being a single activity, large scale construction is a feat of human multitasking...
,
electricity
Electricity
Electricity is a general term encompassing a variety of phenomena resulting from the presence and flow of electric charge. These include many easily recognizable phenomena, such as lightning, static electricity, and the flow of electrical current in an electrical wire...
, packaging, transportation, nondurable consumer goods, hard board material, wire and cable, ceramics,
refractory
Refractory
A refractory material is one that retains its strength at high temperatures. ASTM C71 defines refractories as "non-metallic materials having those chemical and physical properties that make them applicable for structures, or as components of systems, that are exposed to environments above...
material,
laundry
Laundry
Laundry is a noun that refers to the act of washing clothing and linens, the place where that washing is done, and/or that which needs to be, is being, or has been laundered...
,
petrochemical
Petrochemical
Petrochemicals are chemical products derived from petroleum. Some chemical compounds made from petroleum are also obtained from other fossil fuels, such as coal or natural gas, or renewable sources such as corn or sugar cane....
, and
aerospace
Aerospace
Aerospace comprises the atmosphere of Earth and surrounding space. Typically the term is used to refer to the industry that researches, designs, manufactures, operates, and maintains vehicles moving through air and space...
industries.
External links