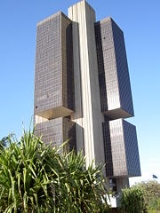 Central Bank of Brazil
The
Central Bank of Brazil
(
Portuguese
Portuguese language
Portuguese is a Romance language that arose in the medieval Kingdom of Galicia, nowadays Galicia and Northern Portugal. The southern part of the Kingdom of Galicia became independent as the County of Portugal in 1095...
:
Banco Central do Brasil
) is
Brazil
Brazil
Brazil , officially the Federative Republic of Brazil , is the largest country in South America. It is the world's fifth largest country, both by geographical area and by population with over 192 million people...
's monetary authority. It was established on December 31, 1964.
The Central Bank is linked with the Ministry of Finance. Like other central banks, the Brazilian central bank is the principal monetary authority of the country. It received this authority when it was founded by three different institutions: the Bureau of Currency and Credit (SUMOC), the Bank of Brazil (BB), and the National Treasury.
One of the arms of Brazil's
monetary policy
Monetary policy
Monetary policy is the process by which the monetary authority of a country controls the supply of money, often targeting a rate of interest for the purpose of promoting economic growth and stability. The official goals usually include relatively stable prices and low unemployment...
is the Banco Central do Brasil's
SELIC
SELIC
Short for Sistema Especial de Liquidação e Custodia, that is, Special System of Clearance and Custody, SELIC is the Brazilian Central Bank's system for performing open market operations in execution of monetary policy. The SELIC rate is the Banco Central de Brasil's overnight lending rate, which...
rate.
Presidents
Presidents of the bank have been:
Henrique Meirelles

Henrique Meirelles

Henrique de Campos Meirelles is the former president of Banco Central do Brasil, Brazil's central bank. In 2002 he was elected to the Chamber of Deputies, Brazil's congressional lower house, as a Goiás-state PSDB party congressman...


. 01/01/2003 - Meirelles is a former executive for FleetBoston.
Arminio Fraga

Arminio Fraga

Arminio Fraga is a Brazilian economist who was president of the Central Bank of Brazil from 1999 to 2002. He is also a former associate of George Soros and his Quantum Fund...


Neto - 03/04/1999 - 01/01/2003. Fraga is a former associate of Soros Fund Management

Soros Fund Management

Soros Fund Management LLC is an American, privately held, hedge fund management firm founded in 1969 by George Soros. In 2010 it was reported to be one of the most profitable firms in the hedge fund industry, averaging a 20% annual rate of return over four decades.-Overview:Soros Fund Management...


.
Gustavo Henrique de Barroso Franco

Gustavo Franco

Gustavo Franco is a Brazilian economist, born April 10, 1956 in Rio de Janeiro.-Career:Son of Maria Isabel Barbosa de Barroso Franco and Guilherme Arinos Lima Verde de Barroso Franco, who was a friend and assistant of President Getúlio Vargas, and also a member of the first board of Directors of...


- 08/20/1997 - 03/04/1999
Gustavo Jorge Laboissière Loyola - 06/13/1995 a 08/20/1997
Pérsio Arida

Pérsio Arida

Pérsio Arida is a Brazilian economist.In the 1970s, he was a part of the student activist movement in Brazil, being arrested and tortured....


- 01/11/1995 - 06/13/1995
Gustavo Henrique de Barroso Franco - 12/31/1994 - 01/11/1995 (interim)
Pedro Malan - 09/09/1993 - 12/31/1994