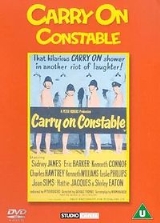 Carry On Constable
Carry On Constable
is the fourth
Carry On
Carry On films
The Carry On films are a series of low-budget British comedy films, directed by Gerald Thomas and produced by Peter Rogers. They are an energetic mix of parody, farce, slapstick and double entendres....
film. It was released in 1960. Of the regular team, it featured
Kenneth Connor
Kenneth Connor
Kenneth Connor MBE was an English comedy stage, radio, film and TV actor, best known for his appearances in the Carry On films.-Career:...
,
Kenneth Williams
Kenneth Williams
Kenneth Charles Williams was an English comic actor and comedian. He was one of the main ensemble in 26 of the Carry On films, and appeared in numerous British television shows, and radio comedies with Tony Hancock and Kenneth Horne.-Life and career:Kenneth Charles Williams was born on 22 February...
,
Charles Hawtrey
Charles Hawtrey (film actor)
George Frederick Joffre Hartree , known as Charles Hawtrey, was an English comedy actor and musician.Beginning at a young age as a boy soprano, he made several records before moving on to the radio...
,
Joan Sims
Joan Sims
Joan Sims was an English actress best remembered for her roles in the Carry On films, and latterly for playing Madge Hardcastle in As Time Goes By.-Early life:...
and
Hattie Jacques
Hattie Jacques
Josephine Edwina Jaques was an English comedy actress, known as Hattie Jacques.Starting her career in the 1940s, Jacques first gained attention through her radio appearances with Tommy Handley on ITMA and later with Tony Hancock on Hancock's Half Hour...
.
Sid James
Sid James
Sid James was an English-based South African actor and comedian. He made his name as Tony Hancock's co-star in Hancock's Half Hour and also starred in the popular Carry On films. He was known for his trademark "dirty laugh" and lascivious persona...
makes his debut in the series here, while early regulars
Leslie Phillips
Leslie Phillips
Leslie Samuel Phillips, CBE is an English actor with a highly recognisable upper class accent. Originally known for his work as a comedy actor, Phillips subsequently made the transition to character roles.-Early life:...
,
Eric Barker
Eric Barker
Eric Leslie Barker born in Thornton Heath, Surrey, was an English comedy actor. He is most remembered for his roles in the popular British Carry On films.-Career:...
and
Shirley Eaton
Shirley Eaton
Shirley Eaton is an English actress.Eaton appeared regularly in British films throughout the 1950s and 1960s, and achieved notability for her performance as Bond Girl Jill Masterson in the 1964 James Bond film Goldfinger...
also turn up, although Phillips wouldn't appear again in the series for 32 years. It was the first
"Carry On..."
film to include some nudity with Connor, Hawtrey, Williams and Phillips baring their behinds during a shower scene.
Plot
A suburban police station is understaffed, due to a flu epidemic, and Sergeant Wilkins, under pressure to maintain staffing levels, is pleased to hear that three new officers, straight from training school, are due shortly.
Before even arriving, the three officers inadvertently assist some bank robbers into their getaway car (a Jaguar Mk2), and are embarrassed when they learn the truth. The new Constables are self-proclaimed intellectual and amateur
psychologist
Psychologist
Psychologist is a professional or academic title used by individuals who are either:* Clinical professionals who work with patients in a variety of therapeutic contexts .* Scientists conducting psychological research or teaching psychology in a college...
, PC Timothy Benson, former socially well-connected playboy and cad, PC Tom Potter ('of the Hertforshire Potters'), and PC Charles Constable who is extremely superstitious.
The arrival of WPC Gloria Passworthy and
Special Constable
Special constable
A Special Constable is a law enforcement officer who is not a regular member of a police force. Some like the Royal Canadian Mounted Police carry the same law enforcement powers as regular members, but are employed in specific roles, such as explosive disposal technicians, court security, campus...
Gorse completes the roster. Constable falls in love with Passworthy.
Out on the beat, the new officrs try hard, but are somewhat less than successful. Benson nearly arrests a plainclothes
detective
Detective
A detective is an investigator, either a member of a police agency or a private person. The latter may be known as private investigators or "private eyes"...
, and Constable believes he's just heard a murder being committed, but it turns out to be a radio play. Potter investigates a report of an intruder, but finds a young woman in the bath. Gorse, tasked to patrol with a
police dog
Police dog
A police dog, often referred to as a "K-9 dog" in some areas , is a dog that is trained specifically to assist police and other law-enforcement personnel in their work...
, is unable to control it.
They have better luck when a wages robbery takes place. Benson and Potter locate the getaway car and all four engage in a confrontation with the thieves, arresting them and recovering the money.
Commended for his efficiency and excellent results, Inspector Mills is promoted to a training position and Wilkins is promoted to replace him. Charlie Constable gets his girl (with a little help from Sgt Moon) and stops being superstitious.
Cast and Crew
Screenplay - Norman Hudis

Norman Hudis

Norman Hudis, born in Stepney, England is a writer for film, theatre and TV and is most closely associated with the first six of the Carry On... film series, for which he wrote the screenplays....



Idea - Brock Williams

Brock Williams

Brock Williams is a former professional American football cornerback. He was drafted by the New England Patriots in the third round of the 2001 NFL Draft. He played college football for the Notre Dame Fighting Irish....



Music - Bruce Montgomery
Art Director - Carmen Dillon
Director of Photography - Ted Scaife
Editor - John Shirley
Production Manager - Frank Bevis
Camera Operator - Alan Hume

Alan Hume

Alan Hume, B.S.C. was a British cinematographer.Hume started work at Denham Film Studios in 1942, and in the late 1940s he worked for Cineguild production company....



Assistant Director - Peter Manley
Sound Editor - Leslie Wiggins
Sound Recordists - Robert T MacPhee & Bill Daniels
Continuity - Joan Davis
Make-up - George Blackler
Hairdressing - Stella Rivers
Dress Designer - Yvonne Caffin
Set Dressing - Vernon Dixon
Casting Director - Betty White
Producer - Peter Rogers

Peter Rogers

Peter Rogers was a British film producer.Rogers began his career as a journalist for his local paper before graduating to scriptwriting religious informational films...



Director - Gerald Thomas

Gerald Thomas

Gerald Thomas was an English film director, born in Hull.-Early life:Thomas was training in medicine when the Second World War began. He then served in the British army during the war, in Europe and the Middle East...



Role of Sergeant Wilkins
Initially, the role of Sergeant Wilkins was intended for
Ted Ray
Ted Ray (comedian)
Ted Ray was a popular English comedian of the 1940s, 50s and 60s....
following his work on the previous film
Carry On Teacher
Carry On Teacher
Carry On Teacher is the third Carry On film, released in 1959. It features Ted Ray in his only Carry On role, alongside series regulars; Kenneth Connor, Charles Hawtrey, Kenneth Williams and Hattie Jacques. Leslie Phillips and Joan Sims make their second appearances in the series here, having made...
. However, Ray was contracted to
ABC
Associated British Cinemas
ABC Cinemas was a cinema chain in the United Kingdom. A wholly owned subsidiary of Associated British Picture Corporation , it operated between the 1930s and the late 1960s...
(despite being unused by them), who distributed the
Carry On
films to cinemas. Unhappy seeing one of their contracted actors in a rival production, they threatened to stop distribution, so
Peter Rogers
Peter Rogers
Peter Rogers was a British film producer.Rogers began his career as a journalist for his local paper before graduating to scriptwriting religious informational films...
reluctantly dropped him from the films and replaced him with Sid James, thus beginning James's 19-film long membership of the
Carry On
team.
Filming and locations
Filming dates – 9 November-18 December 1959
Interiors
:
Pinewood Studios

Pinewood Studios

Pinewood Studios is a major British film studio situated in Iver Heath, Buckinghamshire, approximately west of central London. The studios have played host to many productions over the years from huge blockbuster films to television shows to commercials to pop promos.The purchase of Shepperton...


, Buckinghamshire
Exteriors
:
The streets of Ealing

Ealing

Ealing is a suburban area of west London, England and the administrative centre of the London Borough of Ealing. It is located west of Charing Cross and around from the City of London. It is one of the major metropolitan centres identified in the London Plan. It was historically a rural village...


, London

London

London is the capital city of :England and the :United Kingdom, the largest metropolitan area in the United Kingdom, and the largest urban zone in the European Union by most measures. Located on the River Thames, London has been a major settlement for two millennia, its history going back to its...



External links