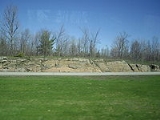 Canadian Shield
The
Canadian Shield
, also called the
Laurentian Plateau
, or
Bouclier Canadien
(French), is a vast
geological shield
Shield (geology)
A shield is generally a large area of exposed Precambrian crystalline igneous and high-grade metamorphic rocks that form tectonically stable areas. In all cases, the age of these rocks is greater than 570 million years and sometimes dates back 2 to 3.5 billion years...
covered by a thin layer of
soil
Soil
Soil is a natural body consisting of layers of mineral constituents of variable thicknesses, which differ from the parent materials in their morphological, physical, chemical, and mineralogical characteristics...
that forms the nucleus of the North American or Laurentia craton. It is an area mostly composed of
igneous rock
Igneous rock
Igneous rock is one of the three main rock types, the others being sedimentary and metamorphic rock. Igneous rock is formed through the cooling and solidification of magma or lava...
which relates to its long volcanic history. It has a deep, common, joined
bedrock
Bedrock
In stratigraphy, bedrock is the native consolidated rock underlying the surface of a terrestrial planet, usually the Earth. Above the bedrock is usually an area of broken and weathered unconsolidated rock in the basal subsoil...
region in Eastern and central
Canada
Canada
Canada is a North American country consisting of ten provinces and three territories. Located in the northern part of the continent, it extends from the Atlantic Ocean in the east to the Pacific Ocean in the west, and northward into the Arctic Ocean...
and stretches North from the
Great Lakes
Great Lakes
The Great Lakes are a collection of freshwater lakes located in northeastern North America, on the Canada – United States border. Consisting of Lakes Superior, Michigan, Huron, Erie, and Ontario, they form the largest group of freshwater lakes on Earth by total surface, coming in second by volume...
to the
Arctic Ocean
Arctic Ocean
The Arctic Ocean, located in the Northern Hemisphere and mostly in the Arctic north polar region, is the smallest and shallowest of the world's five major oceanic divisions...
, covering over half of Canada; it also extends South into the Northern reaches of the United States.