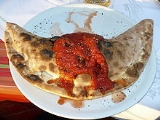 Calzone
A
calzone
is a
turnover
Turnover (food)
A turnover is a kind of pastry made by placing a filling on a piece of dough, folding the dough over, and sealing it. Turnovers can be sweet or savory and are often made as a sort of portable meal or dessert, similar to a sandwich....
that originates from Italy. It is shaped like a semicircle, made of dough folded over and filled with ingredients common to
pizza
Pizza
Pizza is an oven-baked, flat, disc-shaped bread typically topped with a tomato sauce, cheese and various toppings.Originating in Italy, from the Neapolitan cuisine, the dish has become popular in many parts of the world. An establishment that makes and sells pizzas is called a "pizzeria"...
.
The typical calzone is stuffed with tomato and mozzarella, and may include other ingredients usually associated with pizza toppings.
Regional variations
Sandwich-sized calzoni are often sold at Italian lunch counters or by street vendors because they are easy to eat while standing or walking. Sweet versions, usually smaller and cookie-sized, are a specialty in the
Marche
Marche
The population density in the region is below the national average. In 2008, it was 161.5 inhabitants per km2, compared to the national figure of 198.8. It is highest in the province of Ancona , and lowest in the province of Macerata...
. Fried versions typically filled with tomato and mozzarella, are made in Puglia and are called Panzerotti.
Somewhat related is the Sicilian
cuddiruni
or
cudduruni
pizza. This is stuffed with onions (or sometimes other vegetables such as potatoes or broccoli), anchovies, olives, cheese, mortadella: the rolled pizza dough is folded in two over the stuffing and the edge is braided, prior to frying.
Calzone in the United States
In the United States, calzone are typically made from
pizza
Pizza
Pizza is an oven-baked, flat, disc-shaped bread typically topped with a tomato sauce, cheese and various toppings.Originating in Italy, from the Neapolitan cuisine, the dish has become popular in many parts of the world. An establishment that makes and sells pizzas is called a "pizzeria"...
dough and stuffed with cheese (usually
mozzarella cheese
Mozzarella
Mozzarella is an Italian Traditional Speciality Guaranteed food product. The term is used for several kinds of Italian cheeses that are made using spinning and then cutting :...
, but some varieties contain Parmesan,
Provolone
Provolone
Provolone is an Italian cheese that originated in Southern Italy, where it is still produced in various shapes as in 10 to 15 cm long pear, sausage, or cone shapes. A variant of Provolone is also produced in North America and Japan...
or a locally substituted cheese), or ricotta,
ham
Ham
Ham is a cut of meat from the thigh of the hind leg of certain animals, especiallypigs. Nearly all hams sold today are fully cooked or cured.-Etymology:...
or
salami
Salami
Salami is cured sausage, fermented and air-dried meat, originating from one of a variety of animals. Historically, salami has been popular among Southern European peasants because it can be stored at room temperature for periods of up to 10 years, supplementing a possibly meager or inconsistent...
,
vegetable
Vegetable
The noun vegetable usually means an edible plant or part of a plant other than a sweet fruit or seed. This typically means the leaf, stem, or root of a plant....
s, or a variety of other stuffings. It is typically served covered with
marinara sauce
Marinara Sauce
Marinara sauce is a southern Italian tomato sauce usually made with tomatoes, garlic, herbs , and onion. However, there are many variations. Some of these include the addition of capers, olives, anchovies, and/or spices....
, or topped with
garlic
Garlic
Allium sativum, commonly known as garlic, is a species in the onion genus, Allium. Its close relatives include the onion, shallot, leek, chive, and rakkyo. Dating back over 6,000 years, garlic is native to central Asia, and has long been a staple in the Mediterranean region, as well as a frequent...
and
parsley
Parsley
Parsley is a species of Petroselinum in the family Apiaceae, native to the central Mediterranean region , naturalized elsewhere in Europe, and widely cultivated as an herb, a spice and a vegetable.- Description :Garden parsley is a bright green hairless biennial herbaceous plant in temperate...
-infused
olive oil
Olive oil
Olive oil is an oil obtained from the olive , a traditional tree crop of the Mediterranean Basin. It is commonly used in cooking, cosmetics, pharmaceuticals, and soaps and as a fuel for traditional oil lamps...
. The dough is folded over and sealed on one edge or formed in an enclosed circular shape before being baked in an oven. In some areas of New York as well as in Parts of Italy Calzone are fried rather than baked.
Calzones are similar to
stromboli
Stromboli (food)
Stromboli is a type of turnover filled with various cheeses, typically mozzarella, Italian meats such as salami, capicola and bresaola or vegetables...
, but traditionally the two are distinct dishes. A common misconception is that the ingredients are the primary difference between the two. The ingredients are actually at the discretion of the chef. Although most strombolis are rolled, strombolis have also been known to be prepared like a calzone, where the only difference is that a calzone has the sauce on the side, where the stromboli is served with sauce on the inside of the folded crust.
In
Middletown, Connecticut
Middletown, Connecticut
Middletown is a city located in Middlesex County, Connecticut, along the Connecticut River, in the central part of the state, 16 miles south of Hartford. In 1650, it was incorporated as a town under its original Indian name, Mattabeseck. It received its present name in 1653. In 1784, the central...
, several restaurants offer
scacciata
Scacciata
Scacciata can be any of several types of Sicilian dishes.One haute cuisine version is a provolone cheese-filled pastry in a bread dough pie crust...
, which is similar to a calzone, but is filled with either broccoli, spinach, potatoes or onions, and sometimes sausage. Scacciata were once regularly prepared in Sicilian immigrant homes in Middletown's North End.
See also