 Caherconnell Stone Fort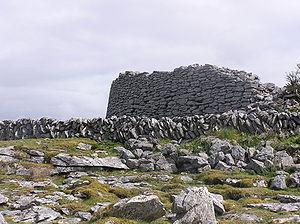 Caherconnell Stone Fort
is an ancient and exceptionally well preserved
Celt
Celt
The Celts were a diverse group of tribal societies in Iron Age and Roman-era Europe who spoke Celtic languages.The earliest archaeological culture commonly accepted as Celtic, or rather Proto-Celtic, was the central European Hallstatt culture , named for the rich grave finds in Hallstatt, Austria....
ic
Ring Fort
Ringfort
Ringforts are circular fortified settlements that were mostly built during the Iron Age , although some were built as late as the Early Middle Ages . They are found in Northern Europe, especially in Ireland...
in
Ireland
Ireland
Ireland is an island to the northwest of continental Europe. It is the third-largest island in Europe and the twentieth-largest island on Earth...
, situated in
the Burren
The Burren
The Burren is a karst-landscape region or alvar in northwest County Clare, in Ireland. It is one of the largest karst landscapes in Europe. The region measures approximately 250 square kilometres and is enclosed roughly within the circle made by the villages Ballyvaughan, Kinvara, Tubber, Corofin,...
, about 1 km south of the
Poulnabrone dolmen
Poulnabrone dolmen
Poulnabrone Dolmen is a portal tomb in the Burren, County Clare, Ireland, dating back to the Neolithic period, probably between 4200 BC to 2900 BC. It is situated 8km south of Ballyvaughan in the parish of Carran, 9.6km north-west of Kilnaboy...
. This fort and other sites like it would have been inhabited from around 500 to 1500 A.D.
From summer 2010 Caherconnell will be home to an archaeological field school where students can learn archaeological techniques from leading archaeologists.
External links