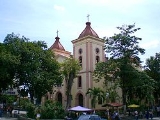 C&A
C&A is also an abbreviation for the Chicago and Alton Railroad and Certification and Accreditation

Certification and Accreditation

Certification and Accreditation is a process for implementing information security. It is a systematic procedure for evaluating, describing, testing and authorizing systems prior to or after a system is in operation. The C&A process is used extensively in the U.S. Federal Government...


.
C&A is an international chain of fashion retail clothing stores, with its European head offices in
Vilvoorde
Vilvoorde
Vilvoorde is a Belgian municipality in the Flemish province of Flemish Brabant. The municipality comprises the city of Vilvoorde proper with its two outlying quarters of Koningslo and Houtem and the small town of Peutie...
(near
Brussels
Brussels
Brussels , officially the Brussels Region or Brussels-Capital Region , is the capital of Belgium and the de facto capital of the European Union...
), Belgium and
Düsseldorf
Düsseldorf
Düsseldorf is the capital city of the German state of North Rhine-Westphalia and centre of the Rhine-Ruhr metropolitan region.Düsseldorf is an important international business and financial centre and renowned for its fashion and trade fairs. Located centrally within the European Megalopolis, the...
, Germany. It has fashion retail store branches in Austria, Belgium, Brazil, China, Croatia, Czech Republic, Bosnia and Herzegovina, France, Germany, Hungary, Italy, Luxembourg, Mexico, Netherlands, Poland, Portugal, Romania, Russia, Slovakia, Spain, Slovenia, Switzerland, Turkey and opening soon in Egypt and Serbia. Its brands include Angelo Litrico, Canda, Clockhouse, Here+There, Palomino, Westbury, Yessica, Yessica Pure, and Your Sixth Sense.
The company was founded by brothers Clemens and August
Brenninkmeijer
Brenninkmeijer family
Brenninkmeijer is a German-Dutch family. Two members of the Brenninkmeijer family founded C&A, an international chain of clothing stores.- History :...
in 1841 as a Dutch textile company, taking its company name from their initials, who were originally from the German Brenninkmeyer family that traded in linen and textiles since the 17th Century from their hometown in
Mettingen
Mettingen
Mettingen is a municipality in the district of Steinfurt, in North Rhine-Westphalia, Germany.-Geography:Mettingen is situated approx. 25 km east of Rheine and 20 km west of Osnabrück.-Neighbouring places:...
, Germany. Since 2007, C&A has also ventured into high-street
retail banking
Retail banking
Retail banking is banking in which banking institutions execute transactions directly with consumers, rather than corporations or other banks. Services offered include: savings and transactional accounts, mortgages, personal loans, debit cards, credit cards, and so forth.-Types of...
, creating C&A Bank GmbH in Germany, with its primary focus on providing consumer credit under its product "C&A Money".
For many years, C&A retail clothing stores were a major presence on high streets throughout the United Kingdom. C&A also opened stores in a number of out-of-town locations, most notably its store at the
Merry Hill Shopping Centre
Merry Hill Shopping Centre
Westfield Merry Hill is a shopping centre in Brierley Hill near Dudley, West Midlands, England. It was developed between 1985 and 1990, with several expansion and renovation projects taking place since. The original developers and owners were Richardson Developments but the Centre has had a number...
in the
West Midlands
West Midlands (county)
The West Midlands is a metropolitan county in western central England with a 2009 estimated population of 2,638,700. It came into existence as a metropolitan county in 1974 after the passage of the Local Government Act 1972, formed from parts of Staffordshire, Worcestershire and Warwickshire. The...
, which opened in November 1989. The company's strategy of selling budget clothes from high-rent city centre retail stores made it vulnerable to a new breed of competitors operating in cheaper, out-of-town locations, including
Matalan
Matalan
Matalan is a British retailer that specialises in shoes and clothes. It was founded by John Hargreaves in 1985. It currently has 200 stores across the UK. The 200th store opened on 22 September 2006 in Croydon...
and the rapidly expanding clothing operations of supermarket food chains such as
Tesco
Tesco
Tesco plc is a global grocery and general merchandise retailer headquartered in Cheshunt, United Kingdom. It is the third-largest retailer in the world measured by revenues and the second-largest measured by profits...
and
Asda
Asda
Asda Stores Ltd is a British supermarket chain which retails food, clothing, general merchandise, toys and financial services. It also has a mobile telephone network, , Asda Mobile...
, and to expanding high street names such as
H&M
H&M
H & M Hennes & Mauritz AB is a Swedish retail-clothing company, known for its fast-fashion clothing offerings for women, men, teenagers and children....
,
Zara
Zara (clothing)
Zara is a Spanish clothing and accessories retailer based in Arteixo, Galicia, and founded in 1975 by Amancio Ortega and Rosalía Mera. It is the flagship chain store of the Inditex group; the fashion group also owns brands such as Massimo Dutti, Pull and Bear, Oysho, Uterqüe, Stradivarius and...
, and
Topshop
Topshop
Topshop is a British clothes retailer with shops in over 20 countries and online operations in a number of its markets. Its sales come primarily from women's clothing and fashion accessories...
.
C&A in the United Kingdom was a notable example of an incorporated private
unlimited company
Unlimited Company
An unlimited company or private unlimited company is a hybrid company incorporated either with or without a share capital but where the liability of the members or shareholders is not limited - that is, its members or shareholders have a joint, several and unlimited obligation to meet any...
, which meant that it was not required to publish its
financial statements
Financial statements
A financial statement is a formal record of the financial activities of a business, person, or other entity. In British English—including United Kingdom company law—a financial statement is often referred to as an account, although the term financial statement is also used, particularly by...
under
United Kingdom company law
United Kingdom company law
United Kingdom company law is the body of rules that concern corporations formed under the Companies Act 2006. Also regulated by the Insolvency Act 1986, the UK Corporate Governance Code, European Union Directives and court cases, the company is the primary legal vehicle to organise and run business...
. In 2000, C&A announced its intention to withdraw from the British market and the last UK retail stores closed in 2001 after having been established in Britain since 1922. The company faces similar problems in mainland Europe and has recently tried to reinvent itself by improving the quality, and hence the cost, of its clothing in an attempt to rid itself of its low-budget image. United Kingdom
ska
Ska
Ska |Jamaican]] ) is a music genre that originated in Jamaica in the late 1950s, and was the precursor to rocksteady and reggae. Ska combined elements of Caribbean mento and calypso with American jazz and rhythm and blues...
act
The Specials
The Specials
The Specials are an English 2 Tone ska revival band formed in 1977 in Coventry, England. Their music combines a "danceable ska and rocksteady beat with punk's energy and attitude", and had a "more focused and informed political and social stance" than other ska groups...
referenced the store in "Man at C&A" on the 1980 album More Specials. The phrase "Man at C&A" was later used to typify someone who was "sartorially challenged".
In June 2009, the company withdrew from the Argentinian market. C&A China competes with main clothing companies such as H&M and Zara.
The
Brenninkmeijer family
Brenninkmeijer family
Brenninkmeijer is a German-Dutch family. Two members of the Brenninkmeijer family founded C&A, an international chain of clothing stores.- History :...
through their company Cofra Holding AG located in Switzerland continues to own the C&A group and its success has led them to become the wealthiest family in the Netherlands. The Brenninkmeijer family, however, now live in
Geneva
Geneva
Geneva In the national languages of Switzerland the city is known as Genf , Ginevra and Genevra is the second-most-populous city in Switzerland and is the most populous city of Romandie, the French-speaking part of Switzerland...
and
Zug
Zug
Zug , is a German-speaking city in Switzerland. The name 'Zug' originates from fishing vocabulary; in the Middle Ages it referred to the right to 'pull up' fishing nets and hence to the right to fish.The city of Zug is located in the Canton of Zug and is its capital...
Switzerland, benefiting from the taxation climate.
The American singer-songwriter, actress and fashion model Beyoncé released her own clothing line, Deréon, in cooperation with C&A in the summer of 2010.
External links