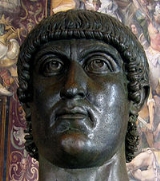 Byzantine army
The
Byzantine army
was the primary military body of the
Byzantine
Byzantine Empire
The Byzantine Empire was the Eastern Roman Empire during the periods of Late Antiquity and the Middle Ages, centred on the capital of Constantinople. Known simply as the Roman Empire or Romania to its inhabitants and neighbours, the Empire was the direct continuation of the Ancient Roman State...
armed forces, serving alongside the
Byzantine navy
Byzantine navy
The Byzantine navy was the naval force of the East Roman or Byzantine Empire. Like the empire it served, it was a direct continuation from its imperial Roman predecessor, but played a far greater role in the defense and survival of the state then its earlier iterations...
. A direct descendant of the
Roman army
Roman army
The Roman army is the generic term for the terrestrial armed forces deployed by the kingdom of Rome , the Roman Republic , the Roman Empire and its successor, the Byzantine empire...
, the Byzantine army maintained a similar level of discipline, strategic prowess and organization. It was among the most effective armies of western Eurasia for much of the Middle Ages.The early Byzantine army received a mixed diet of victory and defeat - consequently the
cavalry
Cavalry
Cavalry or horsemen were soldiers or warriors who fought mounted on horseback. Cavalry were historically the third oldest and the most mobile of the combat arms...
arm became more prominent as the
legion system
Roman legion
A Roman legion normally indicates the basic ancient Roman army unit recruited specifically from Roman citizens. The organization of legions varied greatly over time but they were typically composed of perhaps 5,000 soldiers, divided into maniples and later into "cohorts"...
disappeared in the early 7th century.