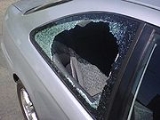 Burglary
Burglary
is a
crime
Crime
Crime is the breach of rules or laws for which some governing authority can ultimately prescribe a conviction...
, the essence of which is illicit entry into a building for the purposes of committing an offense. Usually that offense will be
theft
Theft
In common usage, theft is the illegal taking of another person's property without that person's permission or consent. The word is also used as an informal shorthand term for some crimes against property, such as burglary, embezzlement, larceny, looting, robbery, shoplifting and fraud...
, but most jurisdictions specify others which fall within the ambit of burglary. To engage in the act of burglary is to
burgle
(in
British English
British English
British English, or English , is the broad term used to distinguish the forms of the English language used in the United Kingdom from forms used elsewhere...
) or to
burglarize
(in
American English
American English
American English is a set of dialects of the English language used mostly in the United States. Approximately two-thirds of the world's native speakers of English live in the United States....
).
The
common law
Common law
Common law is law developed by judges through decisions of courts and similar tribunals rather than through legislative statutes or executive branch action...
burglary was defined by
Sir Matthew Hale
Matthew Hale (jurist)
Sir Matthew Hale SL was an influential English barrister, judge and jurist most noted for his treatise Historia Placitorum Coronæ, or The History of the Pleas of the Crown. Born to a barrister and his wife, who had both died by the time he was 5, Hale was raised by his father's relative, a strict...
as
Breaking can be either actual, such as by forcing open a door, or constructive, such as by fraud or threats.