 Brockhaus and Efron Encyclopedic Dictionary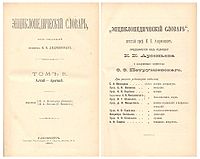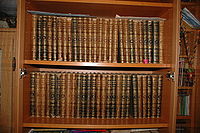 The
Brockhaus and Efron Encyclopedic Dictionary
(
Russian
Russian language
Russian is a Slavic language used primarily in Russia, Belarus, Uzbekistan, Kazakhstan, Tajikistan and Kyrgyzstan. It is an unofficial but widely spoken language in Ukraine, Moldova, Latvia, Turkmenistan and Estonia and, to a lesser extent, the other countries that were once constituent republics...
: Энциклопедический словарь Брокгауза и Ефрона) (35 volumes, small; 86 volumes, large) is, in its scope and style, the
Russia
Russia
Russia or , officially known as both Russia and the Russian Federation , is a country in northern Eurasia. It is a federal semi-presidential republic, comprising 83 federal subjects...
n counterpart to the
Encyclopædia Britannica
Encyclopædia Britannica Eleventh Edition
The Encyclopædia Britannica Eleventh Edition is a 29-volume reference work, an edition of the Encyclopædia Britannica. It was developed during the encyclopaedia's transition from a British to an American publication. Some of its articles were written by the best-known scholars of the time...
. It contains 121,240 articles, 7,800 images, and 235 maps. Published in Imperial Russia in 1890–1906, the comprehensive
encyclopedia
Encyclopedia
An encyclopedia is a type of reference work, a compendium holding a summary of information from either all branches of knowledge or a particular branch of knowledge....
was a joint venture of
Leipzig
Leipzig
Leipzig Leipzig has always been a trade city, situated during the time of the Holy Roman Empire at the intersection of the Via Regia and Via Imperii, two important trade routes. At one time, Leipzig was one of the major European centres of learning and culture in fields such as music and publishing...
and St Petersburg publishers. The articles were written by first-rank Russian scholars of the day, including Dmitry Mendeleyev and
Vladimir Solovyov
Vladimir Solovyov (philosopher)
Vladimir Sergeyevich Solovyov was a Russian philosopher, poet, pamphleteer, literary critic, who played a significant role in the development of Russian philosophy and poetry at the end of the 19th century...
. Reprints of this work appeared following the
dissolution of the Soviet Union
Dissolution of the Soviet Union
The dissolution of the Soviet Union was the disintegration of the federal political structures and central government of the Union of Soviet Socialist Republics , resulting in the independence of all fifteen republics of the Soviet Union between March 11, 1990 and December 25, 1991...
.
External links
http://new.runivers.ru/lib/book3182/digitized copy (Full edition in Russian

Russian language

Russian is a Slavic language used primarily in Russia, Belarus, Uzbekistan, Kazakhstan, Tajikistan and Kyrgyzstan. It is an unofficial but widely spoken language in Ukraine, Moldova, Latvia, Turkmenistan and Estonia and, to a lesser extent, the other countries that were once constituent republics...


) – DjVu

DjVu

DjVu is a computer file format designed primarily to store scanned documents, especially those containing a combination of text, line drawings, and photographs. It uses technologies such as image layer separation of text and background/images, progressive loading, arithmetic coding, and lossy...


format] at Runivers.ru