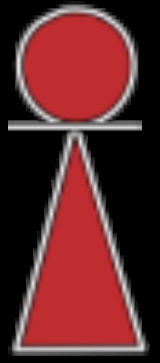 British 11th (Northern) Division
The British
11th Division
, was one of the
Kitchener's Army
Kitchener's Army
The New Army, often referred to as Kitchener's Army or, disparagingly, Kitchener's Mob, was an all-volunteer army formed in the United Kingdom following the outbreak of hostilities in the First World War...
divisions raised from volunteers by Lord Kitchener, it fought at Gallipoli and the
Western Front
Western Front (World War I)
Following the outbreak of World War I in 1914, the German Army opened the Western Front by first invading Luxembourg and Belgium, then gaining military control of important industrial regions in France. The tide of the advance was dramatically turned with the Battle of the Marne...
during the
First World War
World War I
World War I , which was predominantly called the World War or the Great War from its occurrence until 1939, and the First World War or World War I thereafter, was a major war centred in Europe that began on 28 July 1914 and lasted until 11 November 1918...
. The division's insignia was an
ankh
Ankh
The ankh , also known as key of life, the key of the Nile or crux ansata, was the ancient Egyptian hieroglyphic character that read "eternal life", a triliteral sign for the consonants ʻ-n-ḫ...
or ankhus.
Formation
The division comprised the following
infantry
Infantry
Infantrymen are soldiers who are specifically trained for the role of fighting on foot to engage the enemy face to face and have historically borne the brunt of the casualties of combat in wars. As the oldest branch of combat arms, they are the backbone of armies...
brigade
Brigade
A brigade is a major tactical military formation that is typically composed of two to five battalions, plus supporting elements depending on the era and nationality of a given army and could be perceived as an enlarged/reinforced regiment...
s:
32nd Brigade
British 32nd Infantry Brigade (Guards)
The 32nd Infantry Brigade was a British Army formation from World War I to after World War II.-World War I:The Brigade was raised originally as the 32nd Infantry Brigade, part of the 11th Division, a New Army formation which served at Gallipoli and on the Western Front during World War...
:
9th Battalion, The Prince of Wales's Own (West Yorkshire Regiment)
6th Battalion, Alexandra, Princess of Wales Own (Yorkshire Regiment)
6th Battalion, The York and Lancaster Regiment
2nd Battalion Alexandra, Princess of Wales Own (Yorkshire Regiment)
33rd Brigade
British 33rd Independent Infantry Brigade (Guards)
The 33rd Infantry Brigade was a British Army unit originally part of the 11th Division during the First World War.It was re-formed as 33rd Independent Infantry Brigade in October 1941 during the Second World War, under the command of Brigadier J. Jefferson...
:
6th Battalion, The Lincolnshire Regiment
6th Battalion, The Border Regiment
7th Battalion, The South Staffordshire Regiment
9th Battalion, the Sherwood Foresters

Sherwood Foresters

The Sherwood Foresters was formed during the Childers Reforms in 1881 from the amalgamation of the 45th Regiment of Foot and the 95th Regiment of Foot...


(Nottingham

Nottingham

Nottingham is a city and unitary authority in the East Midlands of England. It is located in the ceremonial county of Nottinghamshire and represents one of eight members of the English Core Cities Group...


and Derbyshire

Derbyshire

Derbyshire is a county in the East Midlands of England. A substantial portion of the Peak District National Park lies within Derbyshire. The northern part of Derbyshire overlaps with the Pennines, a famous chain of hills and mountains. The county contains within its boundary of approx...


Regiment)
34th Brigade
:
8th Battalion, the Northumberland Fusiliers
9th Battalion, the Lancashire Fusiliers

Lancashire Fusiliers

The Lancashire Fusiliers was a British infantry regiment that was amalgamated with other Fusilier regiments in 1968 to form the Royal Regiment of Fusiliers.- Formation and early history:...



8th Battalion, The Duke of Wellington's (West Riding Regiment)
11th Battalion, The Manchester Regiment

The Manchester Regiment

The Manchester Regiment was a regiment of the British army, formed in 1881 by the amalgamation of the 63rd Regiment of Foot and the 96th Regiment of Foot...



5th Battalion, The Dorsetshire Regiment
Pioneers
:
6th Battalion, The East Yorkshire Regiment
External links